Central Valley
Secluded 4WD campground next to East Reynolds River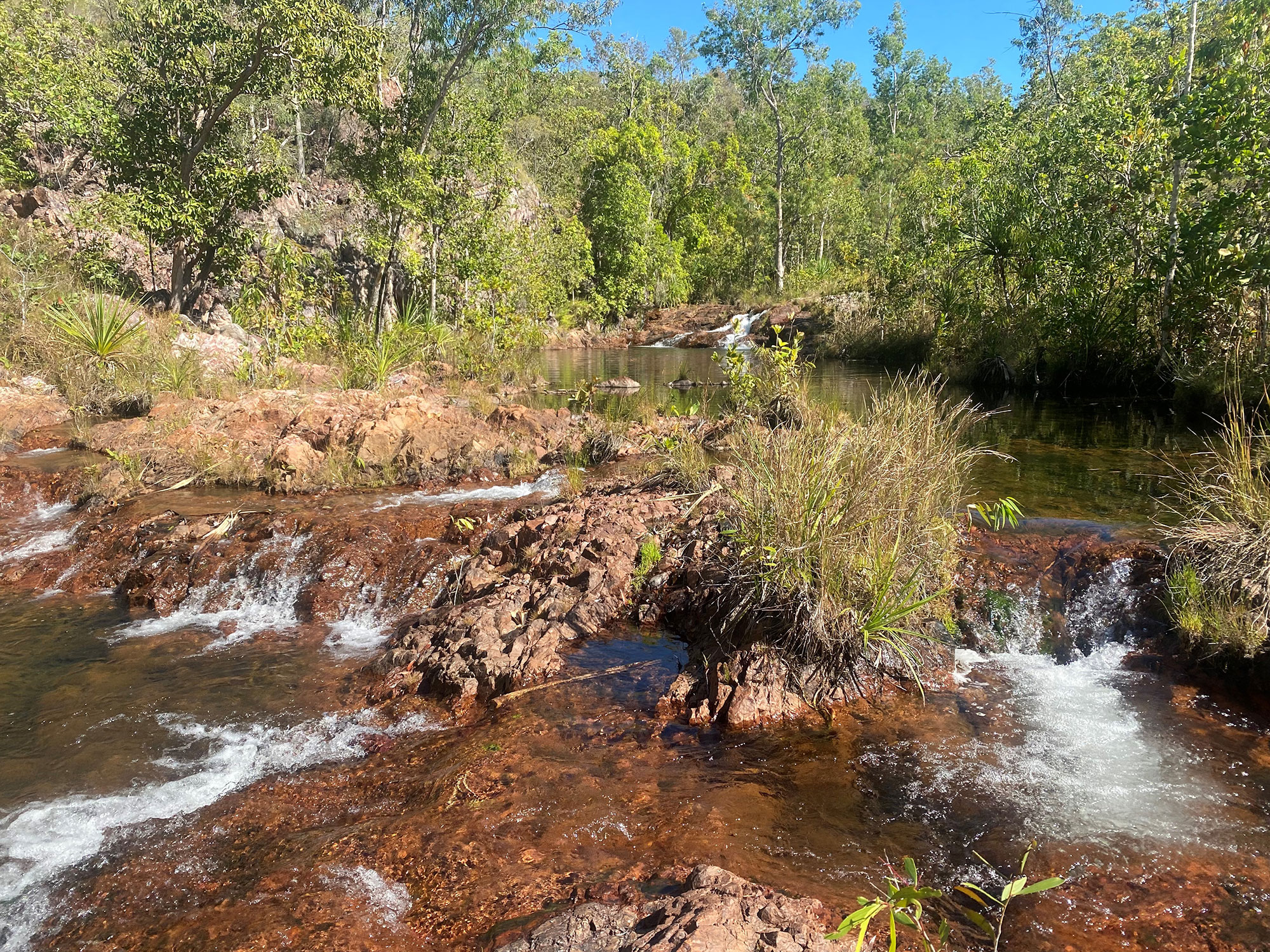 To camp at Central Valley campground 1, 2 or 3, you must have a booking to enter.
Due to seasonal changes, you can usually only access Central Valley between May and November.
Access outside these months is subject to weather. You should check road conditions before you travel.
All campgrounds are located beside the East Reynolds River in Central Valley.
Each campground has a number of camping sites with the option for towing 4WD camping trailers:
Campground 1: 10 unpowered drive-in designated camping sites for high clearance 4WD vehicles.
Campground 2: 12 unpowered drive-in designated camping sites for high clearance 4WD vehicles.
Campground 3: 10 unpowered drive-in designated camping sites for 4WD vehicles.
Pit toilets are located in each campground.
No showers or water are supplied at any of the campgrounds.
Swimming is in designated areas only.
Before you book
Before you book, read the rules and guidelines for safety, comfort and permits in parks and reserves.
Booking rules
Before you visit, you must make sure you're aware of the following conditions:
booking is via a locked gate
high clearance 4WD vehicles are required to access campground 1 and 2, and camper trailers are permitted
4WD vehicles are required to access campground 3, and camp trailers are permitted
only 1 booking per campsite
only 1 vehicle and trailer per campsite
maximum 6 people per campsite
you can stay up to 14 nights, you must leave your site by 10am on your final day
reserve 6 months in advance of the month you wish to visit
the booking only allows direct access to, from and into campground 1, 2 and 3.
If your group is from a club, association, school group or non-profit organisation, you must have 'all risks' public liability insurance of more than $10 million.
Activities that are not allowed
This booking does not allow for commercial photography or filming on park.
Read more about permits on park.
How to book
Read below to find out how to book, collect your access key, when you can arrive and camping rules.
You must book online and pay the camping fees.
These are category D campgrounds.
Find out how to use the parks booking system.
If you are ready, book now.
Your booking confirmation and camping tag will be emailed to you.
The gate to the campground is locked. You will need a key to access. Read below about how to collect and return the access key.
Collect your access key 4 working days before the start of your booking.
Where to collect
Collect the access key from Parks and Wildlife offices in Millner or Katherine.
You can collect or return a key in Katherine only by prior arrangement.
How to pay
To collect the access key you will need to:
show the booking confirmation
pay $250 deposit with a credit card
provide photo identification, such as:

drivers licence
Passport or
NT Evidence of Age card.
You will also need to sign a form agreeing to pay $250 if the key is not returned, or returned damaged.
This information will be kept until key is returned to the office.
You must return the key to get your deposit back. Return the key:
before 4pm
no later than day 4 after your booking departure date.
Your credit card will be charged $250 if the key:
is not returned or
returned damaged.
You can arrive at the campsite after 12 noon on the day of your booking arrival date.
When you must leave
You must leave on your booking departure date by 11.00am.
This will allow campers to easily pass in and out of the campground.
Your group must follow the rules below when visiting campgrounds 1, 2 and 3.
Camping rules
When visiting, remember these camping rules:
move into a campsite after 12 noon on the day you arrive
move out of your campsite by 11am on the day you leave
small camp fires are only allowed in designated fireplaces at each campsite
bring your own firewood or collect along the road into Central Valley, but not in the campground and surrounds
use your own gas stove and/or the fire pit provided for cooking at your campsite.
The following is not permitted:
generators
caravans - only 4WD camper trailers are allowed.
Rules for vehicles
You should follow these rules when you're entering, in and leaving the park:
before you enter, clean your vehicle to prevent the spread of weeds or cane toads
your vehicle must be well maintained and equipped.
The following is not permitted:
motorbikes
trail bikes
quad bikes and similar vehicles.
The gates to campgrounds 1, 2 and 3 must be locked at all times.
What you can't bring
You must not bring any of the following into the park:
pets including dogs - guide dogs are allowed with appropriate certification
firearms or ammunition
explosives
hunting bows or crossbows
any weapon
animal poison or bait
nets and traps
drones get a permit before you go.
How to get there
You will need a high clearance 4WD to access campground 1 and 2.
You will need a 4WD to access campground 3.
The campgrounds are 142km southwest of Darwin.
By road, you can travel to Central Valley via Litchfield National Park:
using the roads from the town of Batchelor or
via Cox Peninsula Road and Litchfield Park Road.
Once you're in Litchfield National Park, continue on the Litchfield Park Road and then turn off onto the Lost City track.
Access beyond this point is key access only.
You must then travel on the unsealed road to Central Valley until reaching the Escarpment Lookout. Track 1 takes you to campground 1, track 2 takes you to campgrounds 2 and 3.
Get the Litchfield National Park Central Valley location map PDF (179.2 KB)
Seasonal road closures do occur. Check the Road Report NT.
Check if the site is open
Address
Litchfield National Park - Litchfield Park Road, then Lost City Track. Access is by key only.
Contact
08 8999 3973
Facilities
Information signs
Public toilets
Activities
Other parks you may be interested in