Florence Falls
Picnic at the plunge pool and take a walk along Shady Creek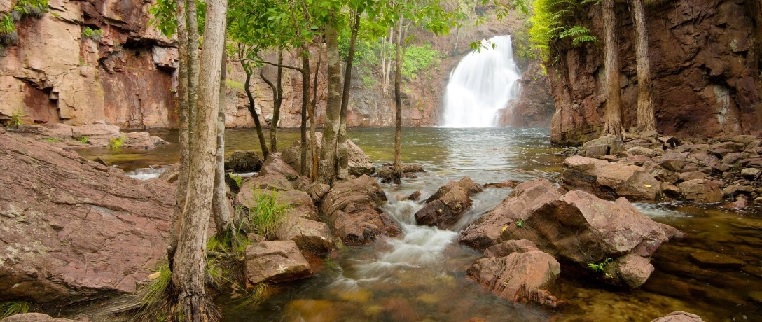 Florence Falls is a popular swimming hole in Litchfield National Park.
It shares the same access road as Buley Rockhole. The falls flow year round, but are most spectacular during the wet season and start of the dry.
Two pathways lead to the swimming hole. The shortest path is down 160 steps. The other is a 1km monsoon walk along an uneven cobble path with some steps.
Check if the park is open
Swimming
Florence Falls has a large plunge pool for swimming. It's possible to swim right up to the falls.
You can enter the water from the rocky edge or down the steps that lead into the deeper water.
You can also swim in Florence Creek at the top of the falls.
Camping
Both the 2WD and 4WD campgrounds at Florence Falls are rated category A. Read about campground categories.
They offer more facilities than other sites in Litchfield National Park.
Find out more about camping in NT Parks.
Book and pay online
You must book and pay online for designated campsites and some multi-day walking trails. Do this before you go.
You can't pay at the park.
Find out more about how to use parks booking system.
If you are ready, book now.
2WD and caravan campground
Florence Falls 2WD and caravan campground is accessible to all vehicles.
You must camp in the designated camp sites and use the fire pits available.
Toilet block and showers are close by.
There is a walking track that leads from the campground to Florence Falls.
4WD campground
The road to the 4WD campsite is sealed.
If you decide to take a 2WD, there are sections of the road that are steep.
The drive may not be suitable for caravans or trailers.
A toilet block and showers are close by.
A walking track leads from the campground to Florence Falls plunge pool.
Walks
Shady Creek and Florence Falls
Start at Florence Falls picnic area or the plunge pool.
This beautiful walk along Shady Creek is an alternative to the main track to the plunge pool. It has 160 stairs. Along the way is monsoon forest and open woodland.
Florence Creek
Start at the upstream picnic area or Buley Rockhole.
This walk follows Florence Creek between Florence Falls and Buley Rockhole.
Park your vehicle in one of the car parks at Florence Falls as parking is limited at Buley.
Address
Litchfleld National Park, Litchfield Park Road, Batchelor
Contact
08 8999 3947
Safety information
Prepare and stay safe in parks and reserves. Check forecast temperatures before you visit.
Facilities
Disabled access
Information signs
Showers
Water
Public toilets
ECD
Gas BBQ
BBQ
Caravan
Activities
4WD
Walking
Camping
Sightseeing
Swimming
Other parks you may be interested in