Your prepaid card
If you join the Northern Territory (NT) Seniors Recognition Scheme, you will get a $500 prepaid card each financial year.
You can choose how you want to use your payment.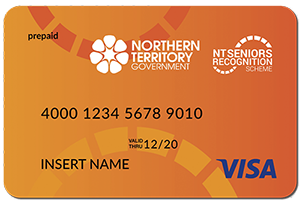 How much you can spend
You can choose how much you want to spend on purchases.
For example, you can use:
the maximum $500 amount in one transaction or
a portion at a time for multiple transactions.
If the purchase is more than $500, you must pay for any extra costs.
Minimum transaction value and split payments
As long as your prepaid card has funds available, there is no:
minimum transaction value or
limit to the number of transactions you can make on your card.
Businesses may restrict multiple payment options.
If the value of your purchase is more than the balance on the card, you will need to check that split payments are available.
Check your balance
You can check your prepaid card balance and transaction history:
You will need to sign in with your card number and personal identification number (PIN).
Using your PIN
When you get your prepaid card, you will be given a PIN.
The number provided can't be changed.
You must keep your card and PIN safe. Don't share your PIN with anyone.
If you forget your PIN, you can check it online on the NT Concessions prepaid card page using the email address provided on your membership record.
Follow these steps:
Step 1. Enter your prepaid card number and personal details to confirm your identity.
Step 2. You will get an access code sent to your email address.
Step 3. Enter the access code.
Step 4. View your PIN.
Note: Each number is revealed separately as a security measure.
If you forget your PIN and don't have an email address, you can:
cancel your prepaid card and
request a new card with the remaining balance.
Call the Northern Territory Concession and Recognition Unit (NTCRU) on 1800 777 704.
The NTCRU will send a new card to your nominated postal address. This can take up to 20 working days.
Territory Families reserves the right to pass on any card issue related costs.
Report a lost or stolen card
If your prepaid card is lost or stolen, you should report it as soon as possible.
After you report the card as lost or stolen, the following will happen:
the card will be cancelled
a new card will be issued the following business day with the remaining balance
the card will be sent to your chosen postal address – this can take up to 20 working days.
Territory Families is not liable for transactions if your prepaid card is stolen.
The agency reserves the right to pass on any card reissue related costs.
---
Last updated: 21 May 2021