Nitmiluk Gorge
Cruise or walk the gorge famous for its towering sandstone cliffs and rock art sites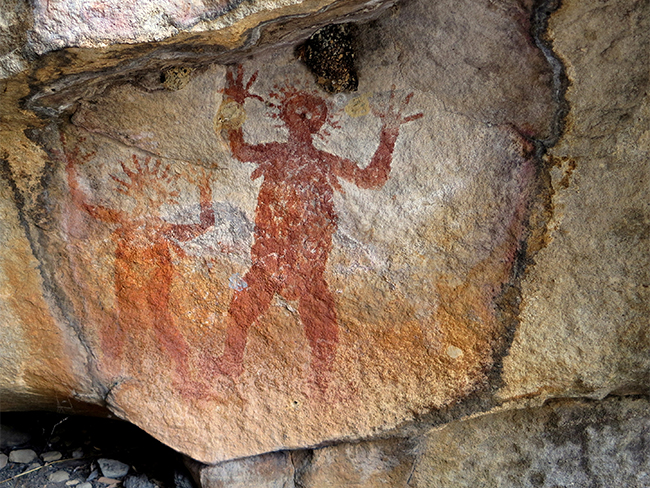 Nitmiluk (also known as Katherine Gorge) is a 13 gorge system that meanders around the Katherine River in Nitmiluk National Park.
You can experience the gorge by:
walking
canoeing
mountain bike riding
swimming
camping
boating
fishing.
Check if the site is open
Nitmiluk Visitor Centre
The Nitmiluk Visitor Centre is located at the entrance to Nitmiluk Gorge.
The centre has a cafe, souvenir shop and cultural displays.
Book boat tours, helicopter flights and canoe trips at the centre.
Opening hours vary. Find out more on the Nitmiluk Tours website.
Activities
Canoe and camp the gorge - hire a canoe from the visitor centre and camp along the Katherine River.
Bushwalk and camp the gorge - take a few days to meander around the gorge.
Discover the gorge from the air by booking a helicopter tour.
Take a boat tour along the gorge.
Fish the gorge (lures only).
Take a short walk around the bushlands near the visitor centre.
Bring your mountain bike and ride the trails.
Read more about:
Address
Gorge Road, Nitmiluk
Contact
08 8973 8821
Safety information
Prepare and stay safe in parks and reserves. Check forecast temperatures before you visit.
Facilities
Coffee
Ranger station
Accommodation
Cooking
Disabled access
Food
Information signs
Phone
Public toilets
Gas BBQ
Drinking water
BBQ
Caravan
Cultural art
Activities
Fishing
Walking
Boat
Camping
Mountain bike
Picnic
Sightseeing
Swimming
Other parks you may be interested in