Leliyn (Edith Falls)
Take a swim in the paperbark and pandanus fringed natural pool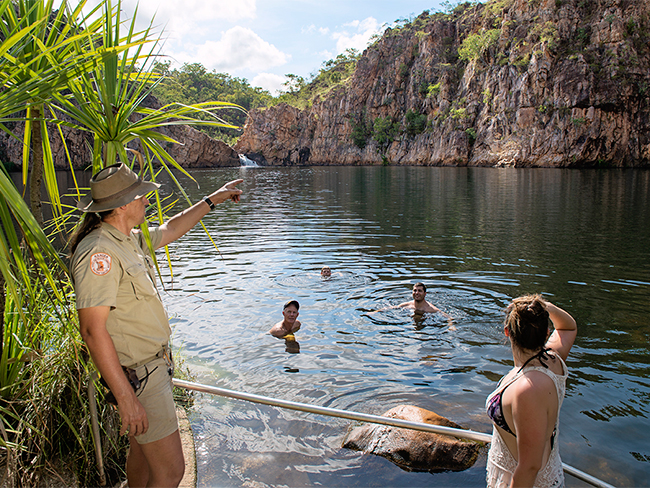 Leliyn (Edith Falls) in Nitmiluk National Park is 290km south of Darwin or 60km north of Katherine on a sealed road.
Picturesque waterfalls, great swimming and drive-in campgrounds are the well-known features of this section of Nitmiluk National Park.
There is a kiosk located near the car park that offers cold and hot food as well as drinks, ice creams and basic food supplies.
Picnic tables, gas barbecues, toilet and shower facilities are also located near the carpark
Get the Leliyn (Edith Falls) fact sheet and map PDF (1.2 MB).
Check if the site is open
Swimming
A short walk from the carpark will lead to the plunge pool.
Further along you can access middle and upper pools of Leliyn (Edith Falls).
Be safe around water
Park rangers monitor the safety of swimming holes.
You must swim in designated areas.
Conditions change rapidly with flash flooding and electrical storms.
If it doesn't feel safe, don't swim. Exercise caution and swim to the conditions you feel comfortable with.
Depth and currents can be overwhelming to novice and young swimmers.
Children should always be supervised.
Camping
There are 2 camping options at Leliyn (Edith Falls).
This includes the:
drive-in campground near the carpark with flushing toilets and showers - get the map

PDF (483.7 KB)

Sweetwater Pool campsite with composting toilets, an 8.6km return walk.
Book and pay online
You must book and pay online for designated campsites and some multi-day walking trails. Do this before you go.
You can't pay at the park.
Find out more about how to use parks booking system.
If you're ready, book now.
Address
Edith Falls Road
Contact
08 8973 8821
Safety information
Prepare and stay safe in parks and reserves. Check forecast temperatures before you visit.
Facilities
Coffee
Ranger station
Food
Information signs
Phone
Showers
Public toilets
Gas BBQ
BBQ
Caravan
Activities
Walking
Camping
Picnic
Sightseeing
Swimming
Sites nearby
Nitmiluk Gorge
Cruise or walk the gorge famous for its towering sandstone cliffs and rock art sites
Visit
Other parks you may be interested in