Marine communications and radio
Other marine information
All marine safety information, excluding weather information, is broken down by eight segments around Australia which have been given the letters A through to H.
These are known as Auscoast Areas or Navarea X.
Marine safety information is broadcast at 25 minutes past the hour as listed in the schedule below in these areas on HF radio 8176 kHz.
Each HF station broadcasts the warnings for its area plus the ones to either side.
A Sat-C system instantly receives these warnings as they are issued.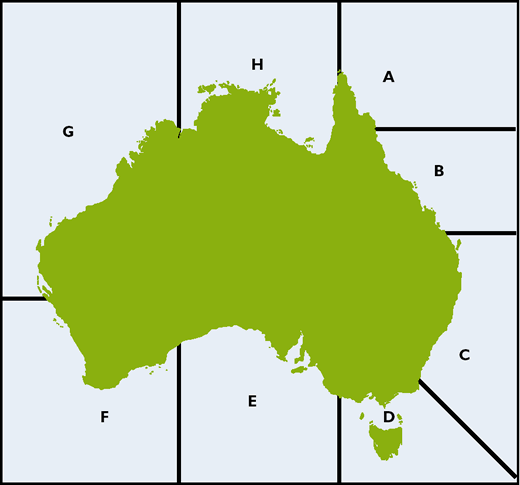 | Station | Primary | Secondary | Area |
| --- | --- | --- | --- |
| Adelaide | 0325 UTC | 0725 UTC | D,E,F |
| Cairns | 2325 UTC | 1225 UTC | H,A,B |
| Darwin | 0125 UTC | 0925 UTC | G,H,A |
| Darwin | 1055 (local) | 1855 (local) | G,H,A |
| Gladstone | 2225 UTC | 1125 UTC | A,B,C |
| Hobart | 0525 UTC | - | C,D,E |
| Melbourne | 0225 UTC | 2125 UTC | C,D,E |
| Perth | 0625 UTC | 1025 UTC | E,F,G |
| Port Hedland | 0425 UTC | 0825 UTC | F,G,H |
| Sydney | 0025 UTC | 1325 UTC | B,C,D |
Print all pages in this section
Last updated: 07 May 2015
Share this page: