Judbarra / Gregory National Park
Everything in this part of the Victoria River District is big, including the barramundi, saltwater crocodiles, the landscape and challenges on the many four-wheel drive (4WD) tracks through the park.
In the west of the park, don't miss the historic Gregory's Tree, a large boab tree with carvings from Augustus Gregory's 1885 north Australian expedition. It's an Aboriginal sacred site and registered heritage site, and has interpretive signs at its base.
You should also visit Bullita Homestead with its historic display.
There are saltwater crocodiles in all waterways in Judbarra / Gregory National Park. Do not swim and Be Crocwise at all times.
If fishing, check the size and bag limits for barramundi.
To read more about what this massive park has to offer get the Judbarra / Gregory National Park fact sheet and map (1018.2 kb).
If you plan to head south to discover the 4WD track network get the 4WD track information sheet (1.2 mb).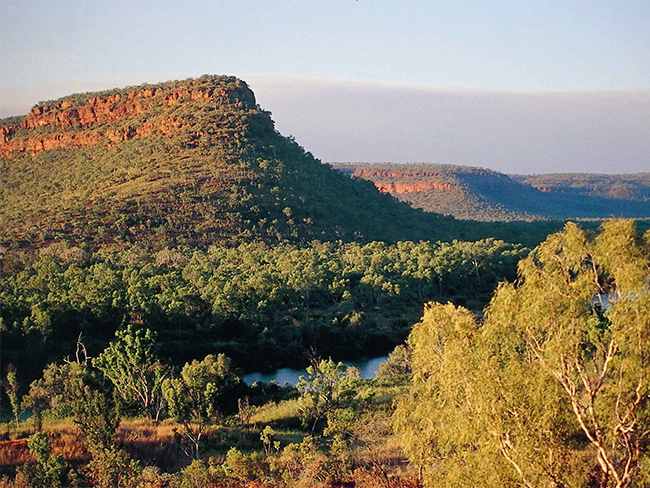 Aboriginal culture
The traditional owners of Judbarra rate this land as an important part of their cultural identity, with huge spiritual significance.
The park includes the traditional lands of several Aboriginal language groups, including Ngarinyman, Karrangpurru, Malngin, Wardaman, Ngaliwurru, Nungali, Bilinara, Gurindji and Jaminjung.
The park is still used by these people for ceremonies and rituals.
Numerous archaeological sites in the park show a long history of Aboriginal occupation.
The rock shelters and caves of Judbarra support a wealth of rock art.
Much of the rock art of this region appears to represent an art style very different from other areas.
Recorded techniques include painting, stencil drawing, printing, packing and pounding.
Human figure motifs are the most common.
There are a high number of composite engraved and painted figures, making it one of the largest sites in Australia.
What to see and do
You can see and do all of the following in the park:
four-wheel driving
fishing
boating
camping
bushwalking
birdwatching
visit scenic lookouts
visit historical ruins
Camping fees apply and are payable on-site.
For information on bird species get the Judbarra / Gregory National Park bird species list (1020.6 kb).
How to get there
Take the Victoria Highway from Katherine or the unsealed Buntine and Buchanan Highways.
Check if this park is open
Find out if the Judbarra / Gregory National Park is open.
Opening hours
All year round, but roads may not be accessed at times during the Wet Season.
Check road conditions before you leave home.
Contact
Phone: 08 8975 0888
Facilities
Judbarra / Gregory National Park has all of the following facilities:
information signs
ranger station
4WD roads
fire pits
public toilets
picnic areas
camping area
caravans – at the Victoria River Roadhouse, not in Judbarra
walking tracks.
Boating access
If you plan to launch a boat in the park you should be aware of the following:
you can fish only with lures - bait cannot be used - to avoid accidental capture of turtles
you can't use motorised watercraft on Wickham River due to its significant natural and cultural values
with a two-wheel drive vehicle you can access Victoria River from concrete boat ramps at Big Horse Creek.
Please remember
When visiting the park, remember all of the following:
take your rubbish with you
stay on marked roads and tracks
cultural items and wildlife are protected
do not damage or carve boab trees as it can harm the tree and you can get fined
pets are permitted along the Victoria Highway and must be kept on a leash
nets, traps and firearms are not permitted
light fires only in fireplaces in the park
use soaps and detergents 50m from waterways
camp only in marked camping areas
collect firewood before arriving at your picnic area or campsite
follow fishing laws
generators are permitted between 8am and 8.30pm
treat water from waterways before drinking.
Safety
You can have a safe and comfortable trip to Judbarra by doing all of the following:
carry and drink plenty of water
wear a hat, sunscreen and insect repellent
wear suitable clothing and footwear
carry a first aid kit
avoid strenuous activity during the heat of the day
make sure your vehicle is well-maintained and equipped
if driving on a 4WD track, tell a reliable person where you are going your return date
it is also good to have a satellite phone or emergency beacon
do not swim as saltwater crocodiles inhabit waterways in this park, watch out for warning signs.
Last updated: 15 June 2018