Simpsons Gap
Take one of the many walks and enjoy the magnificent views and rare plants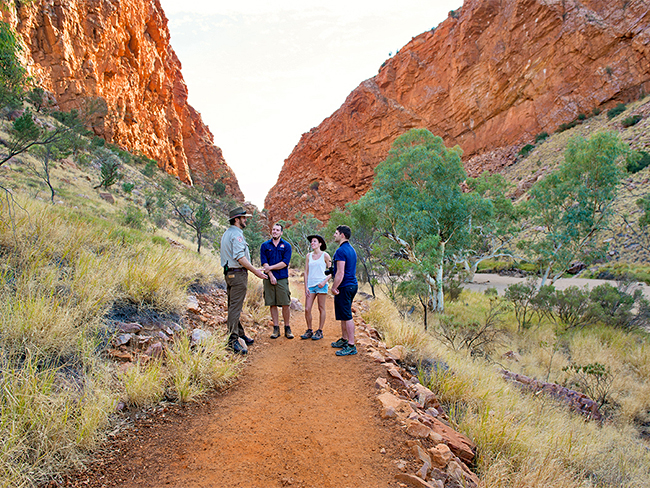 Simpsons Gap is a 20 minute drive from Alice Springs in Tjoritja / West MacDonnell National Park.
At dawn or dusk you may spot a black-footed rock wallaby along the walking track or near the permanent waterhole.
Vegetation typical of the MacDonnell Ranges is found in the area, including large stands of mulga and over 40 rare plants.
Several dreaming trails and stories cross at this important spiritual site.
There are many short walks that pass the native plants of the area, including ancient ghost gums and to magnificent views of the range.
Check if the park is open
Swimming
Swimming is not permitted in this area.
Walks
There are two short walks and one longer walk at Simpsons Gap.
There is also easy access to the Larapinta Trail.
Larapinta Trail
This long distance walking track is divided into 12 sections. Each section takes 1 or 2 days to complete.
Simpsons Gap forms part of sections 1 and 2.
Camping is allowed at the Simpsons Gap camping area for Larapinta Trail walkers only.
Cycling
A sealed bicycle path to Simpsons Gap begins opposite Flynn's Grave, 7km from Alice Springs along Larapinta Drive.
It's a 17km one way track to Simpsons Gap and is suitable for children who are confident bike riders.
Take your helmet, plenty of water, snacks and be sun smart.
Address
The turn off to Simpsons Gap is 18 km west of Alice Springs along Larapinta Drive
Contact
08 8955 0310
Facilities
Water
Public toilets
Gas BBQ
Activities
Other parks you may be interested in