Ormiston Gorge
Swim, camp or walk the gorge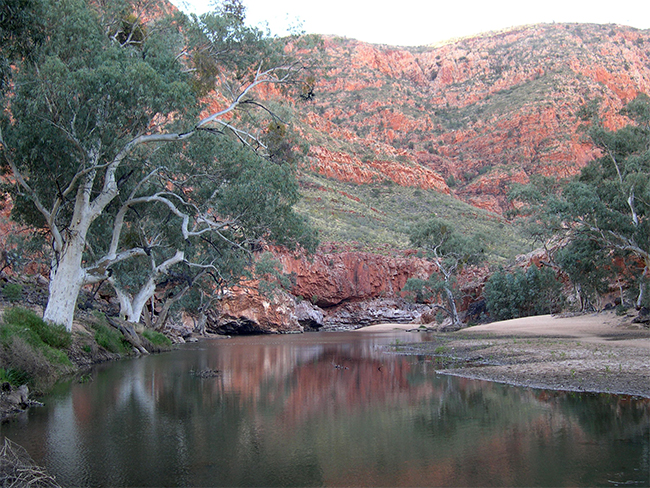 Ormiston Gorge is a great place for a swim, or to see the towering walls of the gorge.
Located 135km west of Alice Springs in Tjoritja / West MacDonnell National Park, it is accessible by sealed roads.
There are several walks at Ormiston Gorge.
You can choose from:
short accessible walks for all skill levels and abilities
half day circuit walks
overnight walks.
The area has an interesting range of native plants and animals including a number of relict plant species from Central Australia's tropical past.
Check if the park is open
Swimming
Located 500m from the visitor centre, is a permanent swimming waterhole.
It is estimated to be up to 14m deep at its southern end.
You should be aware that most waterholes in the park are extremely cold.
Prolonged exposure, even during summer, can result in hypothermia.
Beware of submerged logs and rocks. Don't jump or dive into the water.
Camping
Ormiston Gorge is rated as a category C campground and offers more facilities than other sites in Tjoritja / West MacDonnell National Park.
Gas barbecues, toilets and showers are provided. The drive-in campground is accessible to all vehicle types including caravans.
There are three campgrounds for walkers, school groups and larger groups.
Book and pay
From 1 November 2022 to 28 February 2023, you must book and pay online for designated campsites. Do this before you go.
You can't pay at the park.
Find out more about how to use parks booking system.
If you are ready, book now.
Larapinta Trail
This long distance walking track is divided into 12 sections.
Each section takes one or two days to complete.
Ormiston Gorge forms part of sections 9 and 10.
Read more about the Larapinta Trail.
Address
Ormiston Gorge is 135km west of Alice Springs
Contact
08 8956 7799
Facilities
Coffee
Ranger station
Disabled access
Information signs
Public toilets
Gas BBQ
Caravan
Activities
Other parks you may be interested in