Rules for fishing in specific areas
Mary River Fish Management Zone
You must follow all the special rules for recreational fishing in the Mary River Fish Management Zone.
Possession limits for fish
You must follow all of these possession limits:
maximum size limit of 90cm for barramundi, overall length
maximum size limit of 90cm for king threadfin, fork length
maximum of three barramundi per person
minimum size limit of 55cm for barramundi, overall length
vessel limit of one barramundi over 90cm, overall length
maximum of three king threadfin per person
vessel limit of one king threadfin over 90cm, fork length.
Fishing gear that is not allowed
You must not use or have a cast net or drag net in this area.
Shady Camp barrage
When fishing within a 100m radius of the barrage wall at Shady Camp billabong you must use only a lure or fly with a single point hook.
Bait fishing and the use of double or treble hooks is banned in this area.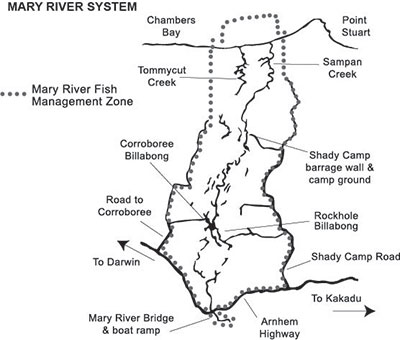 Print all pages in this section
---
Last updated: 01 March 2016
Give feedback about this page.
Share this page:
URL copied!