Safety guide for recreational boating
Recreational boats in the Northern Territory (NT) do not need registration.
You are also not required to hold a licence to drive them.
But you must follow:
minimum requirements for safety equipment, including any exemptions that are applicable
marine rules and regulations.
If you fail to follow the marine regulations, you may get infringement notices from boating inspectors or the police.
Read the Marine (General) Regulations 2013 and the Marine Act 1981. There are penalties for not complying with these regulations.
Minimum requirements for safety equipment
Check your safety equipment and ensure that it is:
in good condition
of regulation standard
available for immediate use.
Read and carry on board the minimum safety equipment requirements table PDF (1.0 MB).
Marine safety rules
You will find the below topics on the marine safety guide PDF (3.2 MB).
Safety
The following safety topics include:
safety requirements
marine infringement notices
Australian builders plates
anchors and anchoring
signals
navigational lights
avoiding collisions
steering and sailing rules
buoys, beacons and marks
fire prevention.
Emergency
The following emergency topics include:
safety via satellite
marine emergency procedures
distress signals
marine communications
radio distress procedures.
Environment
The following environment topics include:
marine pollution
tidal information.
Recreational fishing
The following recreational fishing topics include:
possessions
vessel limits
fish protection areas.
The guide also has information on:
intermediate waters
boating quiz
public boat ramps in the Darwin area and boat ramp locations - you can also read about how to find a boat ramp.
Recreational boat safety quiz
Test your knowledge about boating safety in the NT by taking the boating knowledge quiz.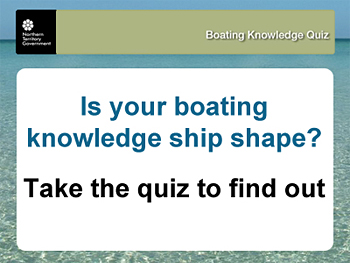 Contact
Marine Safety Branch
Department of Infrastructure, Planning and Logistics
2nd Floor Energy House
18-20 Cavenagh Street
Darwin NT 0800
marinesafety@nt.gov.au
Phone: 08 8924 7100
Fax: 08 8924 7009
---
Last updated: 04 March 2021
Give feedback about this page.
Share this page:
URL copied!