Ormiston Gorge: Tjoritja / West MacDonnell National Park
Ormiston Gorge is a great place for a swim, or to see the towering walls of the gorge and pound, local plants and wildlife.
Located 135km west of Alice Springs in the Tjoritja / West MacDonnell National Park, it is accessible by sealed roads and is the trailhead for sections nine and 10 of the Larapinta Trail.
The gorge has a waterhole that is there year round and is great for swimming, especially in warmer months.
It is located just 500m from the visitor centre and is estimated to be up to 14m deep at its southern end.
The five minute Waterhole Walk, which has wheelchair access to the end of the paved path, and the 20 minute one way Ghost Gum Lookout Walk are the most popular with visitors.
Another way to explore the area is by walking the Ormiston Pound Walk, which is a three to four hour circuit that follows the rocky slope into the flat expanse of the pound and back along the gorge by the main waterhole.
The area has an interesting range of native plants and animals including a number of relict plant species from Central Australia's tropical past.
The park is also an important fauna refuge, with the rediscovery of the Central rock-rat in 1997.
You can camp in the designated campsite, though fees do apply.
Get the Ormiston Gorge fact sheet and map PDF (1.2 MB).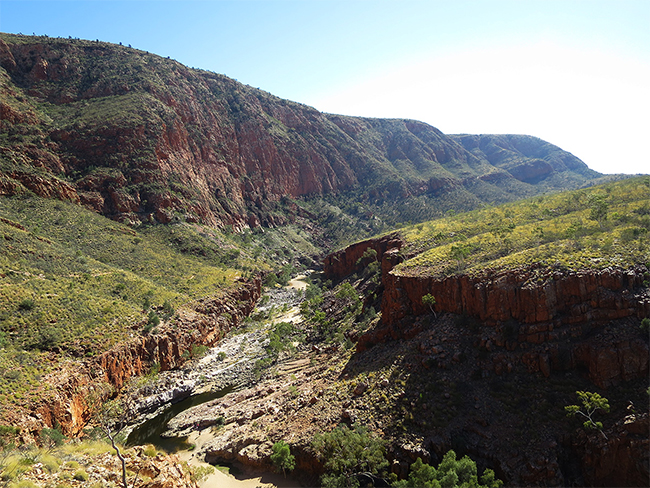 |
---
Last updated: 07 May 2021
Give feedback about this page.
Share this page:
URL copied!