Ormiston Gorge: Tjoritja / West MacDonnell National Park
Ormiston Gorge is a great place for a swim, or to see the towering walls of the gorge and pound, local plants and wildlife.
Located 135km west of Alice Springs in the Tjoritja / West MacDonnell National Park, it is accessible by sealed roads and is the trailhead for sections nine and 10 of the Larapinta Trail.
The gorge has a waterhole that is there year round and is great for swimming, especially in warmer months.
It is located just 500m from the visitor centre and is estimated to be up to 14m deep at its southern end.
The five minute Waterhole Walk, which has wheelchair access to the end of the paved path, and the 20 minute one way Ghost Gum Lookout Walk are the most popular with visitors.
Another way to explore the area is by walking the Ormiston Pound Walk, which is a three to four hour circuit that follows the rocky slope into the flat expanse of the pound and back along the gorge by the main waterhole.
The area has an interesting range of native plants and animals including a number of relict plant species from Central Australia's tropical past.
The park is also an important fauna refuge, with the rediscovery of the Central rock-rat in 1997.
You can camp in the designated campsite, though fees do apply.
Get the Ormiston Gorge fact sheet and map (1001.4 kb).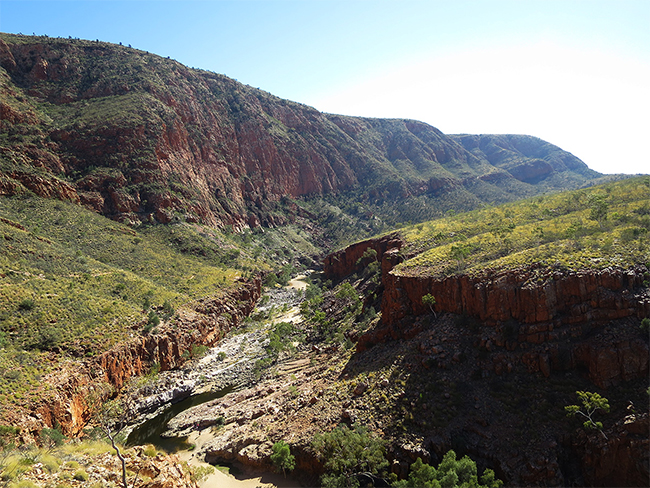 What to see and do
You can do all of the following activities at Ormiston Gorge:
bushwalking
wildlife spotting
scenic lookout
camping
birdwatching
swimming
Get the Overnight Walks of Ormiston Gorge (1.5 mb) information sheet
How to get there
The turn off to Ormiston Gorge is off Namatjira Drive 135km west of Alice Springs.
Check if this park is open
Find out if Ormiston Gorge is open.
Opening hours
All year round, but roads may close after heavy rain.
It is best to visit in the cooler months, from April to September.
The kiosk is open from 10am to 4pm from 1 March to 30 November.
Contact
Ormiston Gorge Ranger Station phone: 08 8956 7799
Contact Parks and Wildlife Alice Springs for more tourist information.
Kiosk phone: 08 8954 0152
Facilities
Ormiston Gorge has all of the following facilities:
information signs
barbecues
cafe
drinking water - you must treat this water before drinking
birdwatching
campsites
walking tracks
picnic area
ranger station - for emergency contact only
public toilets
showers
disabled access.
Please remember
When visiting Ormiston Gorge remember all of the following:
stay on designated roads and tracks
historic, cultural items and wildlife are protected
fires are not permitted so use the gas barbecues provided
bins are not provided so take your rubbish with you
pets are not permitted
generators are not permitted.
Safety
You can have a safe and comfortable trip to Ormiston Gorge by doing all of the following:
observe park safety signs
carry and drink plenty of water
wear a hat, sunscreen, insect repellent, suitable clothing and footwear
avoid strenuous activity during the heat of the day
think about your health and fitness when choosing a walk
swim only where recommended.
Most swimming holes are very cold so be careful swimming at any time of year as long exposure, even in summer, can lead to hypothermia.
Last updated: 15 June 2018