Katherine Hospital
Visiting Katherine Hospital
Only two visitors per patient are allowed to visit for:
one hour in the morning and
one hour in the evening.
Visiting hours are restricted from 11am to 12 noon and 6pm to 7pm each day, except for maternity and paediatrics.
You can request exemptions to these visiting rules from ward managers in special circumstances, such as palliative care.
Masks must be worn by all visitors.
Do not visit if you are unwell, waiting for a COVID-19 test result or are required to self-isolate.
You can be refused entry to wards if you are intoxicated.
Essential visitor
An essential visitor can be:
the parent, guardian or temporary carer of a patient aged under 18 years
a person providing essential care and support for a patient's physical or emotional wellbeing, including:

mental health support
support for people living with dementia

a nominated person of a patient who is in hospital to receive care for a mental illness as defined under the Mental Health Act
a person providing interpreter or informal language support
a person learning to support a patient's care once they are discharged from hospital
the carer of a patient with a disability
a person providing support to a patient whose medical condition is life threatening
a person providing end-of-life support for a patient
a person accompanying a patient to the emergency department or an outpatient appointment
the partner or support person of a:

pregnant woman whose status as a patient relates to their pregnancy
patient in a maternity ward, whose status as a patient relates to pregnancy or childbirth.
Getting around
To help you locate the right area use the detailed map of the hospital below.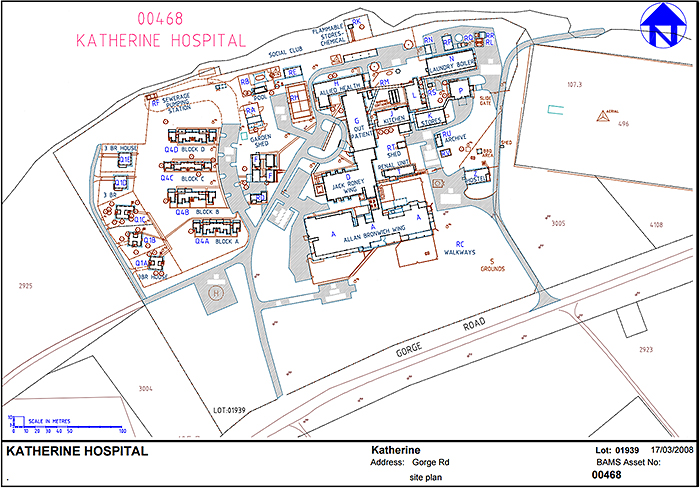 Katherine Hospital map - JPG version JPG (843.6 KB)
Katherine Hospital map - PDF version PDF (381.1 KB)
Visiting during a COVID-19 lockdown or lockout
Visiting arrangements at Northern Territory hospitals are restricted during lockdowns and lockouts to keep patients, staff and the community safe.
Stay up to date with the latest information on the NT Health website.
Print all pages in this section
---
Last updated: 19 August 2022
Give feedback about this page.
Share this page:
URL copied!