Covers and lids on spa pools
The safest form of safety barrier for your spa pool is isolation fencing followed by separation fencing.
In some circumstances, fencing a spa pool is not possible but a lockable purpose-built spa lid or cover can be used.
If you live on a residential property of less than 1.8 hectares, you must have a lockable purpose-built spa lid if:
you can't put a fence around the spa pool that meets the required safety standard
or the spa pool is on the balcony of an apartment that does not have self-closing and self-latching doors and windows that meet the required safety standard to restrict access.
These requirements also apply to portable spas.
You should contact the Pool Fencing Unit and talk with a pool safety adviser. They can arrange a free inspection to work out the best option for your spa pool safety barrier.
Spa lid safety standards
You can only get your spa lid certified under the Non-Standard Safety Provision.
Read more about pool safety standards.
The following conditions apply to all certified spa pool lids:
the spa pool must be covered and the lid locked at all times when not in use
current and future owners must be aware of the risks to young children of having a spa pool with a lid safety barrier
if you rent out your property, the conditions of certification must be included in the tenancy agreement and the tenants must be made aware of the risks and responsibilities.
Before you install a spa
You must follow the same process you would if you were installing a new swimming pool or spa.
This includes applying for an interim compliance certificate before you begin any works.
Application for an interim compliance certificate DOCX (75.3 KB)
Application for an interim compliance certificate PDF (921.2 KB)
If you want to use a spa lid instead of a fence or barrier, you must have a free advice inspection with a pool safety adviser before an interim compliance certificate can be issued.
Apply for a compliance certificate
After the work is finished and before you or the contractor fill the spa with more than 30cm of water, you must get a compliance certificate.
Design and maintenance of spa lids
To meet the safety standard and get a compliance certificate for your spa lid, you must address all of the following design issues:
be lockable and unlockable with a maximum of two keys that does not include multiple keys for multiple locks
be able to support the weight of an adult of around 70kg
be easily removed and replaced by one person
not have gaps greater than 10cm in the spa lid material
not be able to lift more than 10cm above the edge of the spa in any area when the lid or cover is locked
not have any sharp edges
must allow ventilation to reduce the build up of chlorine gases.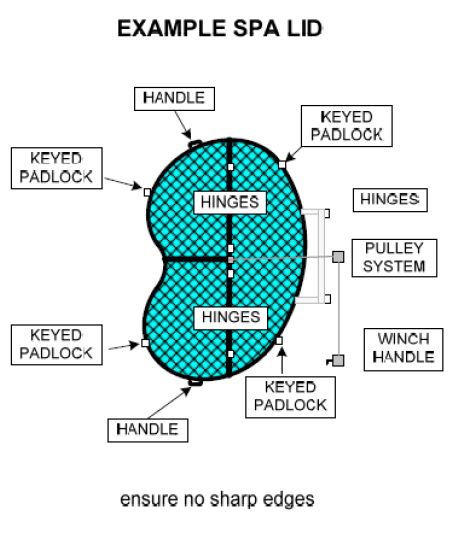 Maintenance
Regular maintenance is important to keep your spa lid up to standard. You must make sure the lid is in place and locked when the spa is not in use.
To maintain your pool or spa lid, you need to do all of the following:
regularly clean the latching devices so they stay working and do not get blocked
take care the lid is not propped open when the spa is not in use
regularly review the effectiveness of the lid
immediately do any repairs.
Contact
To find out more, contact the Pool Fencing Unit.
---
Last updated: 01 September 2017
Give feedback about this page.
Share this page:
URL copied!