Channel Point Coastal Reserve
Channel Point Coastal Reserve should be on every fishing enthusiast's top 10 list.
The reserve has some of the Northern Territory's most fertile fishing grounds.
It is located roughly 240km south of Darwin between the Daly River mouth and Channel Point, opposite the Peron Islands.
This area is recommended for self-sufficient anglers and boaters.
You should only consider the journey if you are experienced in Top End coastal conditions and have four wheel drive (4WD) skills and equipment.
The campground is remote and access is restricted to ten vehicles and no more than 50 people at any one time.
Get the Channel Point Coastal Reserve fact sheet and map (1.3 mb).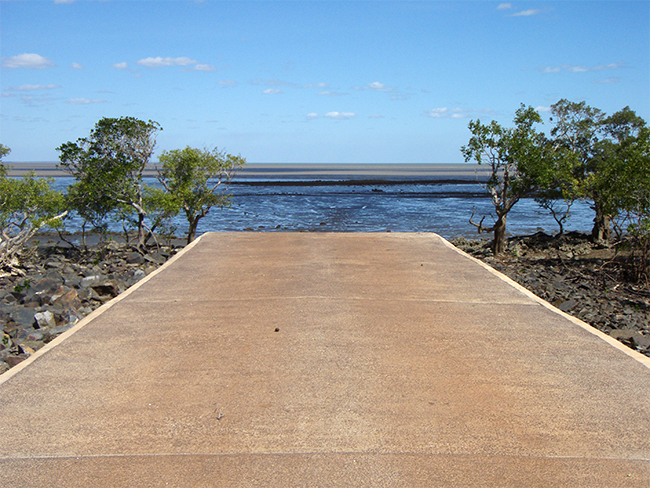 Channel Point permits
You need a permit to access the Channel Point Coastal Reserve.
You should also stay away from Aboriginal Land Trust areas on the Peron Islands and Bulgul Community and respect the private land that borders the reserve.
You need a fishing permit from the Northern Land Council to enter Aboriginal land, including waters overlying Aboriginal land.
For up-to-date information on permits visit the Northern Land Council website.
Make sure you display your Channel Point Coastal Reserve entry permit on your dashboard.
If you arrive by boat, show your permit when you arrive at the beach.
What to see and do
You can do all of the following activities in the reserve:
fishing
boating
camping
wildlife watching.
How to get there
Travel to Litchfield National Park and take the unsealed road to the reserve just north of Wangi Falls.
The reserve is about 240km from Darwin. There is 67km of unsealed 4WD road.
Boating access
If you plan to launch a boat in the reserve you should be aware of the following:
you can get access to the Peron Islands and the Daly River mouth from the reserve
depending on the size of your boat, you may need a tide greater than 3.5 metres to safely launch and retrieve due to the rough nature of location in the Dry Season with strong south-easterly winds
local tides are 20 to 30 minutes earlier than Darwin tides - see the tide information on the Bureau of Meteorology website.
Check if this park is open
Find out if the Channel Point Coastal Reserve is open.
Opening hours
During the Dry Season with a permit only.
Contact
Phone: (08) 8976 0282
For emergencies the nearest health centre is at Batchelor 145km away. Phone: (08) 8976 0011
Marine communication system: VHF CH16
Facilities
Channel Point Coastal Reserve has all of the following facilities:
information signs
fire pits
public toilets
camping area
showers
boat ramp
bore water
emergency call device (ECD) located in the boatramp carpark.
Please remember
When visiting the reserve, remember all of the following:
show your permit on the dashboard of your vehicle
camp in marked camping areas
collect fallen firewood only
only light fires in communal fireplaces and keep fires small
generators should be turned off between 10pm and 6am
don't litter on land or sea, take your rubbish away to recycle
don't bury fish waste, return it to deep waters or take it away
cultural items, animals and plants are protected
follow fishing laws
nets, traps and firearms are not permitted, except for cast nets, crab pots and handspears
pets are not permitted
check that your vehicle is not transporting weeds and pests like cane toads
motor bikes and quad bikes are not permitted
keep to marked roads and tracks
do not enter Channel Point Community residential area
do not enter Aboriginal land.
Safety
You can have a safe and comfortable trip to Channel Point Coastal Reserve by doing all of the following:
no swimming as this is a crocodile and box jellyfish habitat
make sure your vehicle and boat are well-maintained and equipped
carry and drink plenty of water
carry plenty of food and fuel
carry a first aid kit, including vinegar
carry appropriate communication equipment
wear suitable clothing and footwear, a shady hat, sunscreen and insect repellent
avoid strenuous activity in the heat of the day
observe all park signs.
Last updated: 16 August 2017