Physic nut
Scientific name: Jatropha curcas
Declaration status: Class A
Physic nut is native from Mexico to Paraguay and to the Caribbean islands and is thought to have been introduced to Asia and Africa by Portuguese merchants in the 18th century.
It used to be considered a garden ornamental, but it has since been declared as a weed in the Northern Territory (NT) and in Queensland where it has now naturalised.
Two physic nut infestations have been recorded in the NT; one at Mt Wells near Pine Creek and the other at Kapalga. Both these infestations have been eradicated. It is drought resistant and will grow under a wide range of climatic and soil conditions, but is often found in disturbed areas.
For more information get the physic nut identification fact sheet PDF (643.6 KB).
Physic nut can have all of the following impacts:
seeds are toxic to humans, goats, sheep and calves
economic impacts from death of stock animals overseas
out-competes native plants in drought conditions
forms monocultures and dense impenetrable thickets
excludes native flora and fauna and disrupts ecosystem processes
may interrupt traditional owner's cultural connections with the land and inhibit recreational activities such as hunting, camping and bushwalking.
You should use this as a guide. There may be other plants or weeds that look similar.
erect perennial shrub up to 4m high
spreading branches, grey bark with thick, sappy stems
smooth, dark green, round leaves with three to five lobes and five prominent veins that run across the leaf's surface
yellow-green flowers that form in clusters on stalks in upper axils
fruit pods change from green to dark brown when ripe
split into three sections - each section releases one to three black, oblong seeds, 2cm long and 1cm wide.
If you are unsure, contact the Weed Management Branch .
Similar looking plants
The following plant species look similar to physic nut:
Bellyache bush (Jatropha gossypiifolia) is widespread across northern Australia.
Find out more information about bellyache bush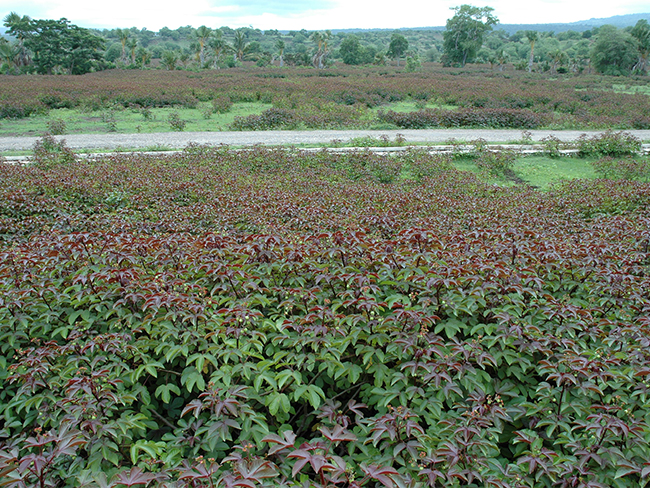 Castor oil plant (Ricinus communis) has leaves with seven to nine lobes and flowers in spikes.
Find out more information about castor oil plant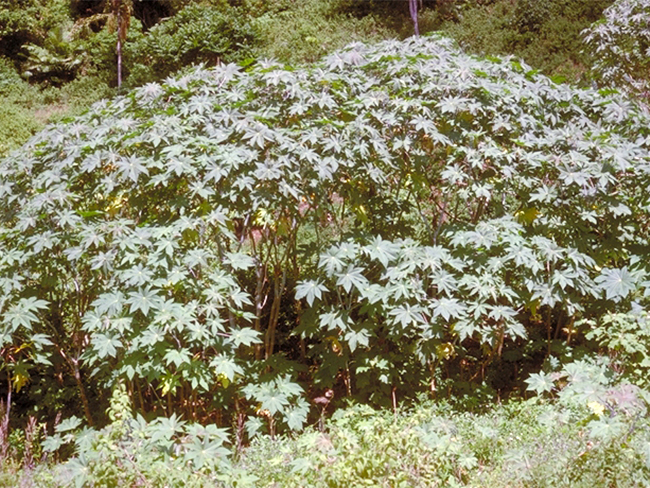 If you think you may have seen physic nut, or have this weed on your property, don't attempt to control it. Contact the Weed Management Branch immediately for assistance.
---
Last updated: 16 January 2020
Give feedback about this page.
Share this page:
URL copied!