Transporting concrete panels
If you're transporting heavy tilt-up precast concrete panels, you must ensure the panels:
Load restraints may be comprised of any of the following:
chains
webbing straps
a fastening and locking component of an engineered frame
a combination of any or all of these.
The suitability of the restraint will depend on the type and size of concrete panel being transported and the type of vehicle being used.
Checker-plate steel decks can be just as slippery as smooth flat steel decks.
You must not load directly onto steel decks or steel A-frames without appropriate friction material in place.
Always consider increasing friction between concrete panels by using wood or rubber material.
When loads settle, the lashings may loosen. Check the tension soon after moving off, and then regularly during the journey.
Consider using step-deck trailers when transporting tall concrete panels to reduce the height of the centre of gravity of the load.
A-frames must be designed to withstand the loads and forces which may act on the frame system during loading, transportation and unloading.
If it doesn't have the right design, you may have to get engineer certification for your A-frame.
A-frames must be separately secured to the vehicle - independent of the concrete panel restraint system - and appropriately blocked to ensure they cannot move around on the deck.
The support feet on the A-frame should have high friction rubber between them and the trailer floor - except when secured using twist-lock systems.
Ensure that the A-frames are not twisted or placed on an uneven floor. Otherwise, the load may become unstable and dislodge.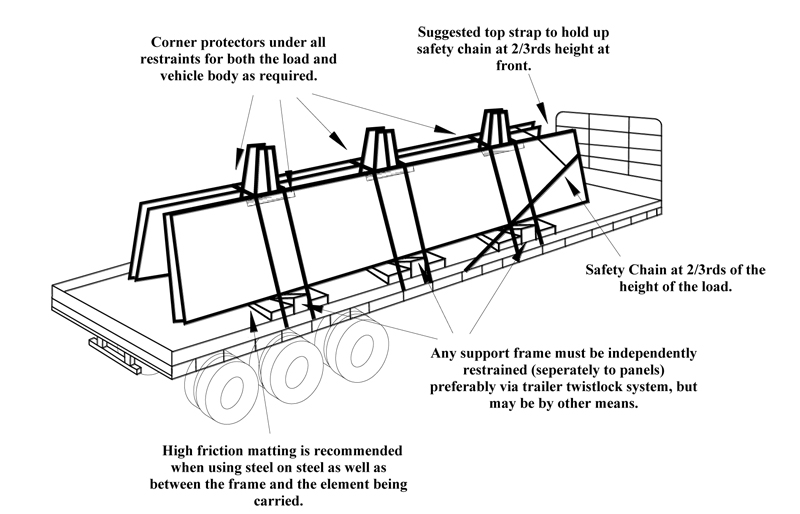 Diagram notes

Corner protectors under all restraints for both the load and vehicle body as required.
Suggested top strap to hold up safety chain at two thirds the height at front.
Safety chain at two thirds of the height of the load.
Any support frame must be independently restrained (separately to panels) preferably via trailer twist lock system, but may be by other means.
High friction matting is recommended when using steel on steel as well as between the frame and the element being carried.
---
Last updated: 07 February 2020
Give feedback about this page.
Share this page:
URL copied!