Stay safe in the heat in parks
If you are visiting a park in the Northern Territory (NT), there are guidelines you should follow to protect yourself from the heat.
Walking in hot weather can be dangerous and sometimes even deadly.
Even if you are an experienced walker, you should take precautions when visiting NT parks.
If you visit a park you should:
For more information on heat safety, watch the video below or get the Beat the Heat fact sheet PDF (1.4 MB).
The best way to avoid heat-related illness on your walk is to be prepared before you go.
You should stay updated on local weather forecasts and avoid walking in extreme heat.
If you feel unwell, stop. Rest in the shade and drink water.
You should also do the following:
Apply sunscreen
When applying sunscreen, you should:
use SPF 30 or higher
apply 20 minutes before going outside
reapply every two hours during your walk.
Wear suitable clothing
It's best to wear protective clothing such as:
light-coloured clothes made of breathable cotton fabric
shirts with long or three quarter sleeves with turned-up collars to protect your neck
hats with a broad brim to protect the face, ears and neck.
Drink lots of water
Always carry water and make sure you:
start drinking water before your walk
drink at least one litre of water per hour when outside
drink water regularly even in milder temperatures if you are in the Red Centre or the Top End.
Eat snacks
When going for a walk, make sure you eat snacks to replenish your energy levels - fruit or energy bars are a good idea.
Avoid walking in extreme heat
In hot weather, you should start your walk as early in the morning as possible.
During the summer, temperatures often go over 30 degrees Celsius (86 degrees Fahrenheit) as early as 9am.
Plan your route
You should always:
tell someone where you are going and plan your route well
stay on the paths and follow all signs
carry a map of the area - make sure you know where you are going
use GPS navigation apps and take a map on your phone with you as backup
know where you can top up water if needed before you start walking.
Check the weather before you go
Central Australia experiences extreme heat between November and March.
The Top End can experience hot and humid conditions from October to March.
Remember the following:
If walking during these months of extreme weather, make sure you are prepared.
Some walks are closed when temperatures are considered too high.
Check the temperature before your walk and consider postponing if it is more than 32 degrees Celsius (90 degrees Fahrenheit).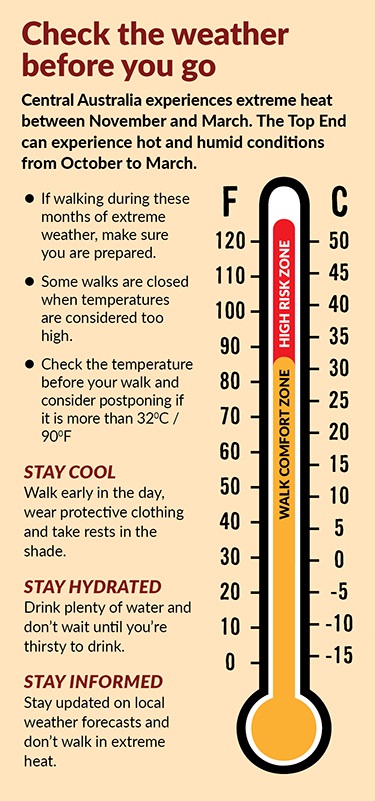 If you think someone might have heatstroke, you should do all of the following:
call 000
move the person into a cool, shady place while waiting for help
remove any unnecessary clothing
wet their skin with water and ice packs if possible.
---
Last updated: 21 February 2022
Give feedback about this page.
Share this page:
URL copied!