Gamba grass
Control
This page has information to help you control gamba grass in the Northern Territory.
It also describes the types of control methods you can use.
You can also find out how gamba spreads and what you can do about it.
All property owners and occupiers must install a 15m gamba free buffer as follows:
around entire property boundary
around all infrastructure
along either side of all tracks and driveways.
If you have a small amount of gamba or if you are in the Class A eradication zone, you must be working towards removing all gamba plants from you property.
Property inspections
Property inspections will be done by weed management officers.
You may receive a management order or fines for non-compliance.
See the below image for an example of a property management plan to help with compliance.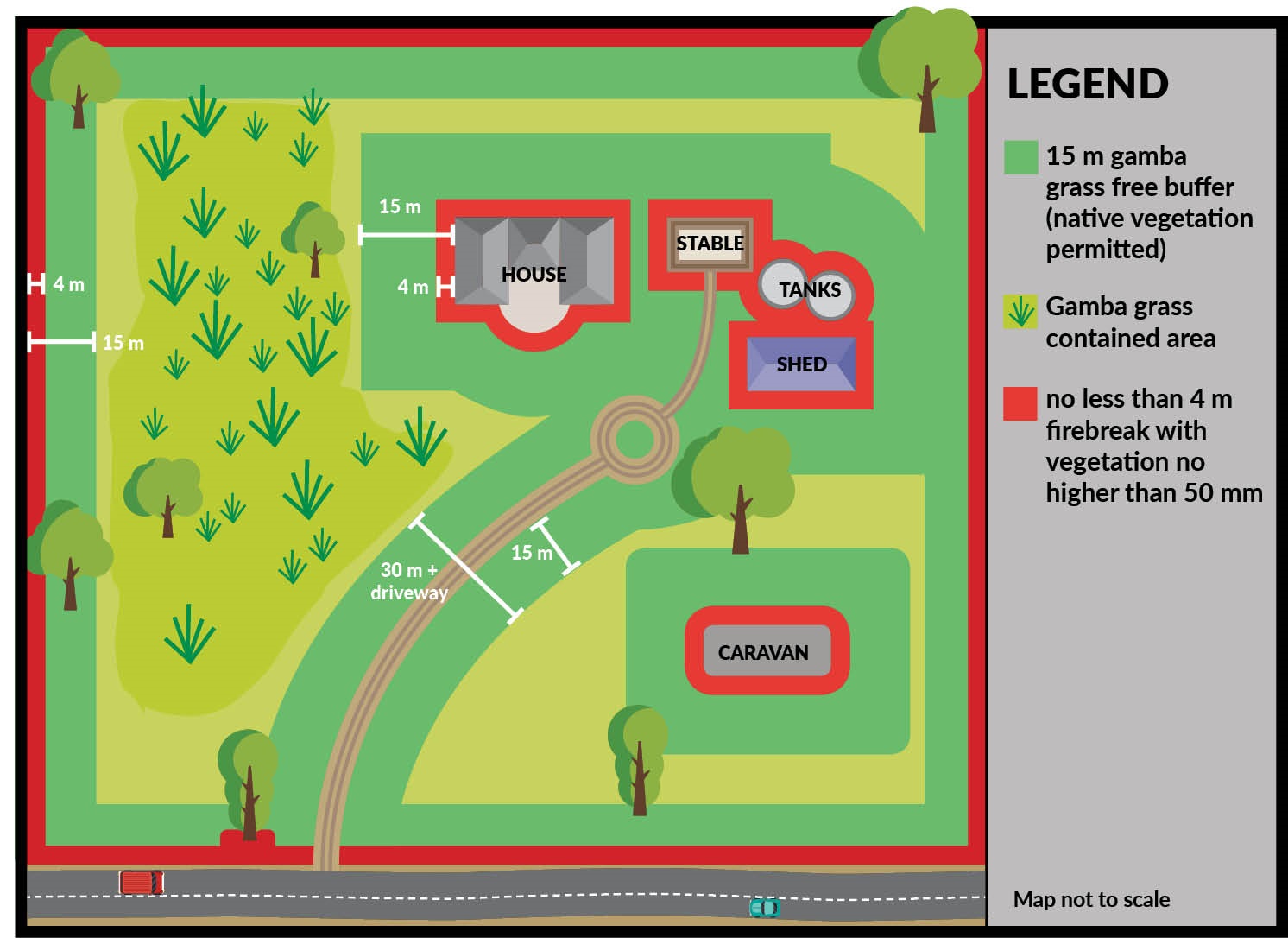 |
The best time to treat gamba grass is from December to March. Below is a list of treatment methods that can be used.
Chemical and concentration
Rate
Situation, method and notes
Glyphosate 360 g/L
Various trade names and formulations
10mL / 1L
Seedling or adult (individuals or infestation):
Foliar spray - apply when actively growing (Dec-Mar)
Use surfactant
Effective chemical control of gamba grass relies on spraying the entire plant.
For optimal uptake of the herbicide and high mortality rates gamba grass should be sprayed when actively growing and young (leaves should be at least 40cm long).
Spraying plants prior to reaching full height will reduce time and herbicide requirements.
Gamba grass is still sensitive to herbicide when flowering. Once gamba grass is seeding and the leaves are drying out herbicide will not work.
Hand pulling and grubbing
Weeds, including their roots, are physically pulled out of the ground by hand or using hand tools.
This is an effective method of control for individual weeds and recent outbreaks that haven't released seeds yet, but it requires a lot of labour.
Slashing
A brush-cutter, slasher or mower are used to cut weeds off above the ground level.
This can be effective in suppressing flower and seed development.
Slashing will not eradicate gamba grass, but it can reduce the biomass, prevent seeding, create an opportunity for more desirable species to establish and provide improved access to control by other means.
Fire
Fire as a management technique is most effective when it is used together with other methods.
It is useful for mass seedling control if there is a sufficient fuel load.
Burning will not kill gamba grass, but low intensity fires, undertaken in the wet season, can remove rank growth improving access for slashing or spraying.
Plants may need to be treated with herbicide prior to burning to create enough dry matter to carry a fire. Fire may have the ability to carry seed in hot air currents, therefore avoid using fire as a control method while plants are seeding.
Grazing
In areas within the Class B declaration zone gamba grass may continue to be used in established pasture areas, however there is a requirement to disallow any further spread.
Gamba being used as a pasture should be grazed with enough stock to keep grass height below 90cm.
Above this height tussocks may be avoided by stock and allowed to produce vast quantities of seed.
After lightly grazing pasture in the early wet season, a stocking density of four to five head per hectare is required to control growth for the remainder of the wet season.
Increase grazing pressure if the grass nears 90cm. Gamba grass is not recommended for cattle production on smaller properties as it requires high stocking densities to keep it low and palatable.
You can prevent the spread of gamba grass by doing all of the following:
spray/destroy any tussocks that grow on fence lines, fire breaks and roadsides or outside paddocks
slash infestations in the early dry season before seed matures
avoid driving through seeding plants
clean vehicles and equipment that come into contact with gamba seed
in areas where gamba grass can be legitimately used for pasture, graze it intensively to prevent seeding.
Find out more about how to prevent weed spread.
Print all pages in this section
---
Last updated: 16 September 2019
Give feedback about this page.
Share this page:
URL copied!