Parthenium is a declared Class A and Class C weed and a Weed of National Significance.
Go to the Weeds of National Significance website for more information.
Another name for this plant is Parthenium hysterophorus.
If you think you may have seen parthenium, or have this weed on your property, do not attempt to control it. Contact the Weed Management Branch immediately for assistance.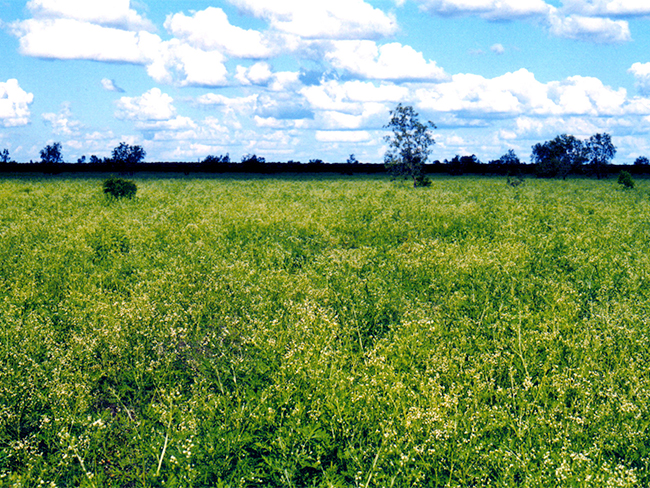 Identification
You should use this as a guide. There may be other plants or weeds that look similar.
If you are unsure, contact the Weed Management Branch.
Habit
These features describe the habit of this plant:
fast-maturing, branching annual herb
can germinate, grow, mature and set seed in 28 days
toxic to stock
can cause allergic reactions in people.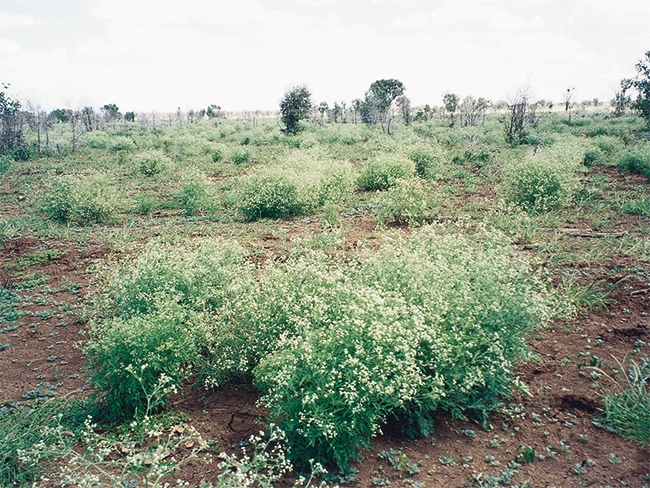 Stems and branches
These features can identify the stems and branches:
erect stem up to 2m high
becomes woody with age
deep tap root.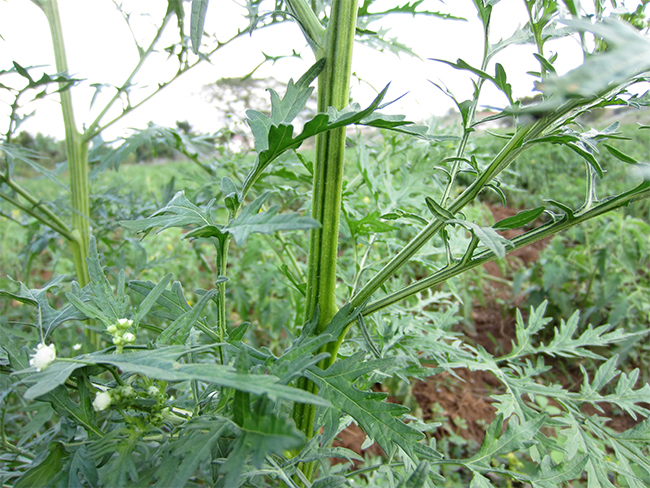 Leaves
These features can identify the leaves:
pale green and lobed
covered with soft, fine hairs.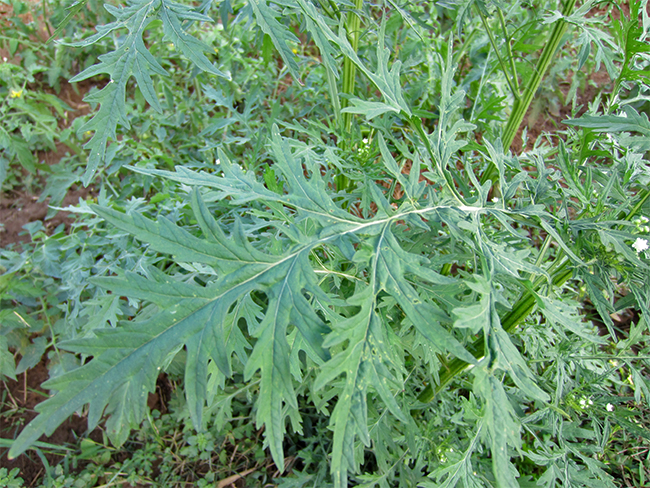 Flowers
These features can identify the flowers:
grow on the stem tips
small and white
4mm across
five distinct corners
each flower produces four or five seeds.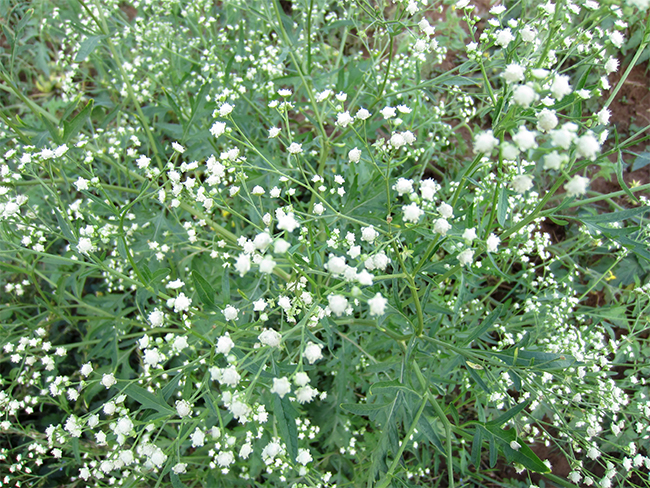 Fruit and seeds
These features can identify the fruit and seeds:
seeds are black and wedge-shaped
2mm long
thin white scales
up to 100,000 seeds produced per plant.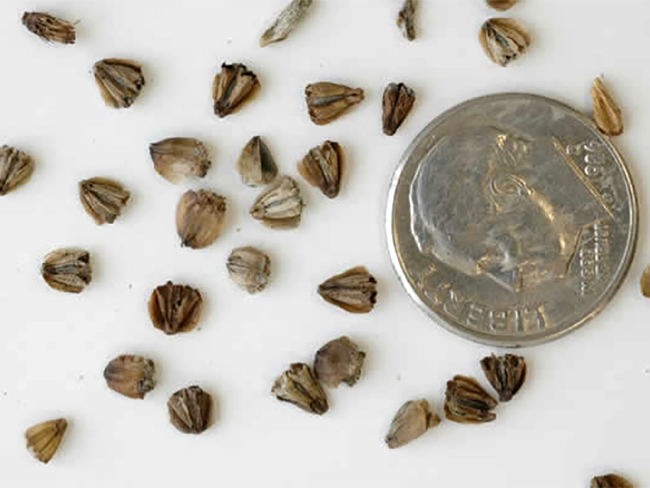 Impact
Parthenium is a major problem in rangelands and cropping areas of Queensland costing farmers and graziers more than $22 million a year in reduced production and increased management costs.
Parthenium can have all of the following impacts:
degrades pastures, increasing production costs and decreasing productivity
toxic to stock and humans
can cause allergic skin reactions in people.
may take up to 20 years for allergic symptoms to show
taints meat from livestock that eat it.
Habitat and distribution
Parthenium weed is a native of Central and South America.
It was first recorded in Australia in 1955, and has since spread through central Queensland and New South Wales where it is now well established.
In 1977 parthenium was discovered in the NT along Elsey Creek in the Mataranka district.
The infestation had spread 8km downstream from the Roper Highway.
The Weed Management Branch has since conducted an intensive eradication program, involving aerial and ground spraying as well as manual removal.
The plant has been successfully eradicated from this area. Smaller infestations have been reported and controlled in the Katherine and Borroloola areas.
Parthenium weed was found at the Tennant Creek stockyards in 2010.
This area is now under containment with the aim of eradication. There are currently no other known parthenium plants in the NT.
Spread prevention
Parthenium can spread rapidly if introduced into an area. It produces large quantities of seeds, which contaminate harvested material including hay, vehicles, machinery and livestock, all which help with spread.
Vehicles and produce coming from areas in Queensland that are affected by parthenium should be checked and/or cleaned before entering the NT and individual properties.
Wash down areas should be closely monitored for parthenium plants.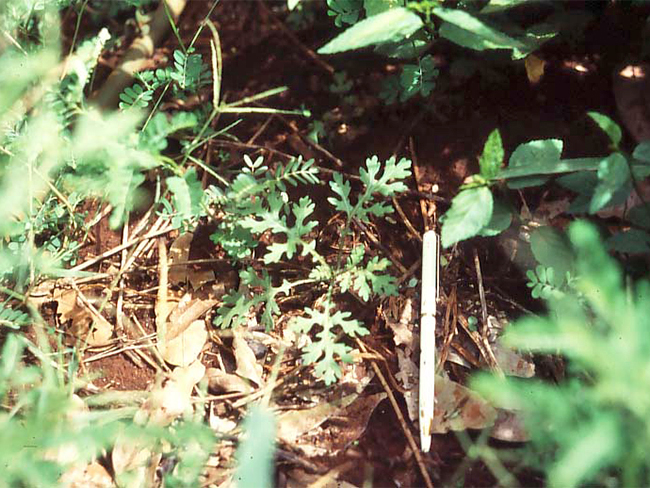 Control
If you think you may have seen parthenium, or have this weed on your property, do not attempt to control it.
Contact the Weed Management Branch immediately for assistance.
Parthenium is on the alert list for environmental weeds. This is a list of weeds that threaten biodiversity and cause other environmental damage.
Last updated: 28 November 2017