Pitaya: dragon fruit
This page has information about growing pitaya at home in the Northern Territory (NT).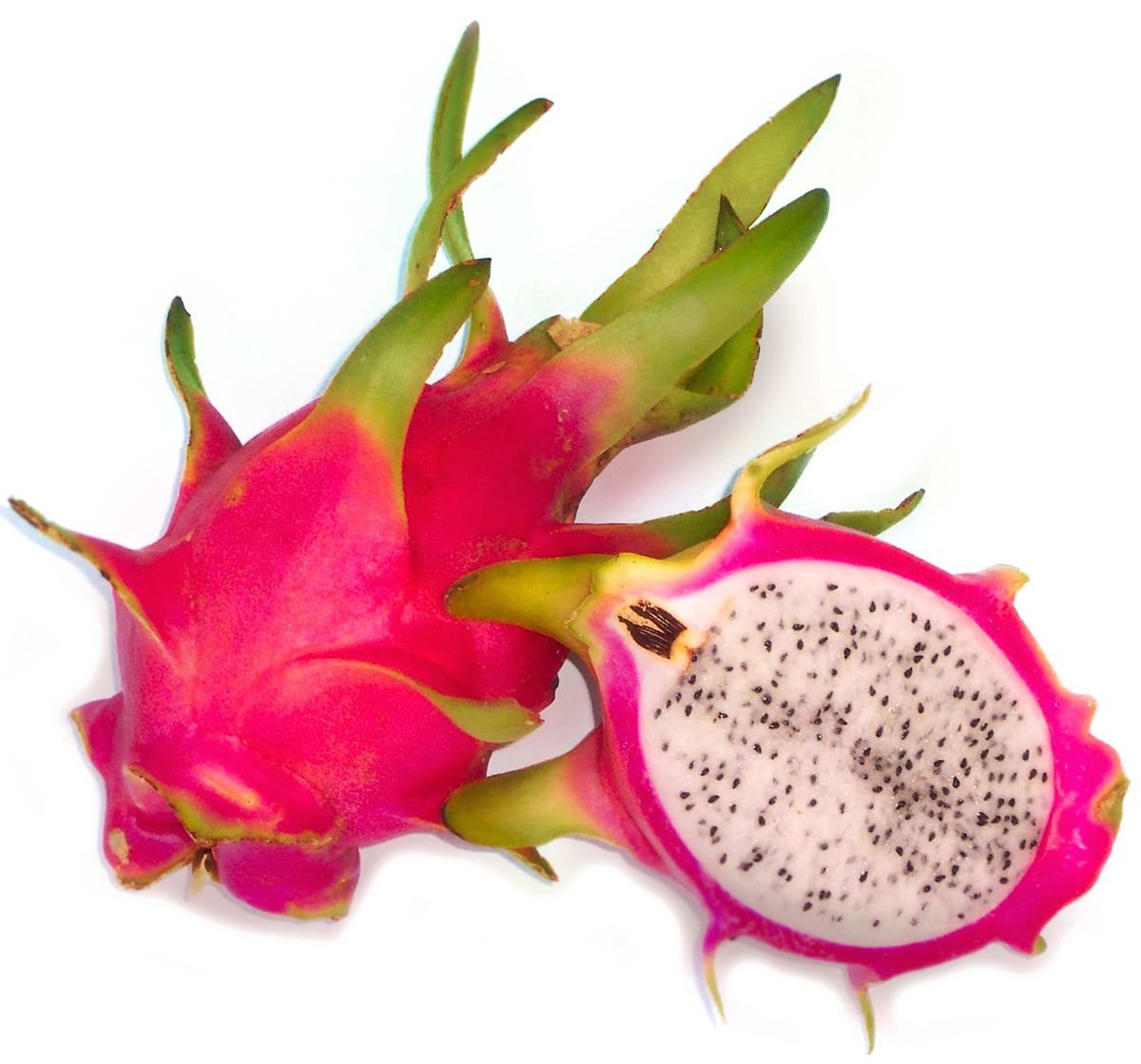 About pitaya (dragon fruit)
Name: pitaya, dragon fruit, hylocereus undatus (cactaceae).
Origin: South America.
Distribution: pitaya is grown in Central and South America, Mexico, the United States, Vietnam, Israel and Australia.
Australian distribution: pitaya is grown in the NT, Queensland and parts of Western Australia and New South Wales.
Description
Pitaya is a vine-like crawling cactus with aerial roots. It has fleshy succulent stems.
The flowers are large and perfumed. They are white with yellow centres.
Flowers open in the evening and finish in the early morning, lasting just one night.
Fruit can weigh up to 600g. Pitaya skin is bright pink, crimson or red with fleshy green scales. The flesh is white or red with many small black seeds.
Preferred climate and soil
Pitaya prefers a dry, tropical climate with average temperatures between 21 to 29 degrees Celsius. It can put up with temperatures up to 40 Celsius and as low as 0 Celsius for short periods.
It needs 600mm to 1,300mm of rain annually and needs Wet and Dry seasons.
Pitaya needs some shade as it can be damaged by a lot of light. It thrives in sandy soil with lots of organic matter.
Varieties
There are two main species of pitaya, which are red fleshed and white fleshed.
Culture
Pitaya is best grown from healthy green cuttings. Cuttings of 30cm to 50cm should be cured in a dry place for a couple of weeks, then potted into a free-draining mix. Pitaya cuttings need shade and only a little water until their roots have developed.
Once roots have developed, cuttings can be put in the sun and fertilised. They can be planted after developing shoots.
Mature plants should be trained to hang over a wooden frame so they can produce fruit.
Apply a balanced NPK fertiliser - containing nitrogen, phosphorous and potassium - every three months, and lime and organic material once a year.
Pests and diseases
There are several pests and diseases that affect pitaya, like meat ants, ginger ants, caterpillars, mites, watery rot and birds.
You will need to look after your pitaya to reduce crop loss or damage.
Fruit season
Pitaya fruits from September to March in the NT.
Harvest
The best time to harvest pitaya is 28 to 30 days after flowering.
Storage
Pitaya will last for up to three months if stored at 7 to 10 degrees Celsius and 90% to 98% relative humidity.
Eating
Pitaya fruit is generally eaten fresh. It can be chilled and cut in half and sliced or scooped out with a spoon.
The sweet flesh is crisp and refreshing and can also be used in fruit salads, marmalades, jellies, ices and soft drinks.
---
Last updated: 26 February 2016
Give feedback about this page.
Share this page:
URL copied!