Dogs at Casuarina Coastal Reserve
There are rules you must follow if you take your dog to Casuarina Coastal Reserve.
Rangers patrol the reserve. You may be fined if you don't follow the rules.
The law requires you to give your name to a ranger if they request it.
Read the Territory Parks and Wildlife Conservation By-Laws 1984.
Where you can take your dog
Dogs are allowed in on lead and under control areas.
In an on lead area, you must have your dog on a lead at all times.
In an under control area, your dog can be off a lead if you have it under control.
To be classed as under control, your dog must:
respond to your voice command immediately
not chase or rush at other dogs, people, horses or wildlife.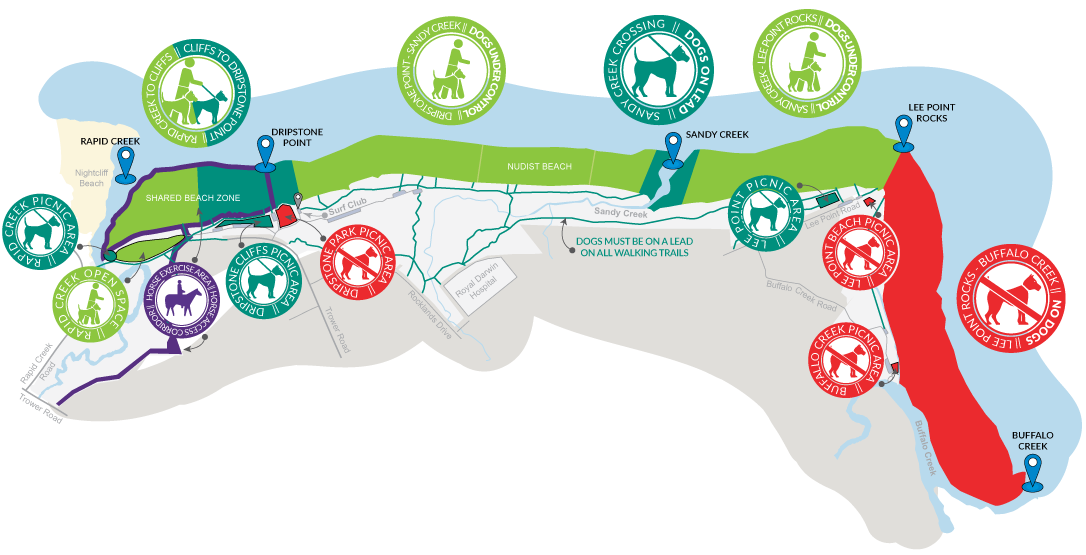 On lead areas
Dogs must be on a lead in all of the following areas:
on the beach around Sandy Creek
on walking tracks and trails
at the following picnic areas:

Rapid Creek
Dripstone Cliffs
Lee Point.
Under control areas
If you have your dog under control you can let them off the lead in the following beach exercise areas:
between Rapid Creek and Sandy Creek
from Sandy Creek to Lee Point rocks.
No dogs allowed
Dogs are not allowed in any of the following areas:
on the beach from Lee Point rocks to Buffalo Creek
Dripstone Park picnic area
Lee Point beach picnic area
Buffalo Creek picnic area
the beach access, short walking tracks to Buffalo Creek beach from either Lee Point picnic area or Buffalo Creek carpark.
Why the rules are important
Casuarina Coastal Reserve is home to nesting sea turtles and migratory shorebirds. All wildlife and plants in the reserve are protected.
These rules ensure everyone can enjoy the reserve and habitats are preserved for wildlife.
Shorebirds feed and rest along the shoreline at the reserve and are concentrated in numbers from Sandy Creek to Buffalo Creek.
Humans and dogs can disturb birds, which scares them and makes them take flight.
Find out more about threatened animals in the NT.
Crocodiles live in Northern Territory waterways so you should always consider crocodile safety and Be Crocwise.
---
Last updated: 04 March 2020
Give feedback about this page.
Share this page:
URL copied!