Showing ID when you buy takeaway alcohol
You may be asked to show photo identification (ID) if you buy alcohol in all of the following places:
Alice Springs
Katherine
Tennant Creek
all communities with a liquor permit system in place.
Your ID must show all of the following:
your photo
your name
your date of birth.
Changes to who can buy takeaway alcohol
From 1 September 2017 all Territorians and visitors to the Northern Territory will need to show photo ID to buy takeaway alcohol.
Find out more about the changes to who can buy takeaway alcohol.
How it works
When you buy restricted alcohol such as cask wine and fortified wine, your photo ID is scanned.
The business can then check all of the following:
if you are allowed to buy a certain amount of alcohol
if a court has banned you from buying any alcohol
if an underage person is trying to buy alcohol.
Identification you can use
The photo ID system reads many different types of identification cards, including all of the following:
driver licence
passport
evidence of age card - also known as 18+ card
other forms of photographic identification as approved by Licensing NT.
You may need to apply for a birth certificate from the Births, Deaths and Marriages Office before identification can be issued.
Examples of identification
Driver licence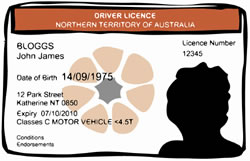 18 + ID card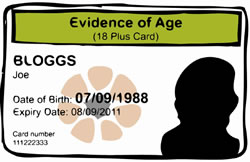 If you are from overseas
You can use national identity cards from over 50 countries, listed below.
Over 100 other official identification cards from the countries listed can also be used.
Bahamas
Bahrain
Belgium
Bermuda
Bosnia
Brazil
Bulgaria
Canada - all Canadian provincial driver licences and the Canadian Citizen card (11 cards)
Chile
China
Cook Islands
Costa Rica
Croatia
Czech
El Salvador
Fiji
France
Germany
Guatemala
Holland
Hungary
India
Indonesia
Ireland
Israel
Italy
Japan
Kosovo
Lithuania
Luxembourg
Malaysia
Mexico
Nicaragua
Norway
New Zealand
Panama
Peru
Poland
Portugal
Puerto Rico
Romania
Singapore
Slovakia
South Africa
Spain
Sweden
Switzerland
Turkey
United Arab Emirates
United Kingdom
United States - all 50 US state driver licences plus numerous other official cards (over 100 cards).
Last updated: 27 June 2017