Showing ID when you buy takeaway alcohol
From 1 September 2017 all Territorians and visitors to the Northern Territory (NT) will need to show photo ID to buy takeaway alcohol.
Find out more about the changes to who can buy takeaway alcohol.
Approved identification
The photo ID system reads the following types of identification cards:
Australian or most international driver licences
Australian or most international passports
Evidence of Age card - also known as 18+ card
NT Ochre Card - also known as a working with children clearance
Australia Post Keypass Card.
Examples of identification
Driver licence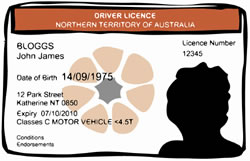 Evidence of Age card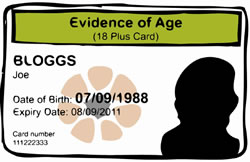 No other forms of ID will be accepted.
If you do not have any of the above forms of identification you can apply for an Evidence of Age card.
Contact
To find out more call the Banned Drinker Register hotline on 1800 237 226 or email banneddrinkerregister.doh@nt.gov.au.
Last updated: 06 February 2019