Asian honey bee alert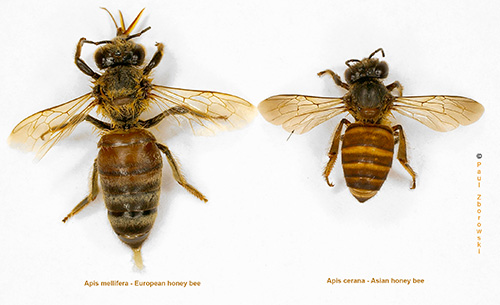 Asian honey bees are a significant threat to Australian and Northern Territory (NT) honey and pollination industries because they could carry the varroa mite which feeds on bees.
They can also spread other pests or diseases to the European honey bees, which are used to produce honey.
The Asian honey bee is already in Queensland and an infestation was found in the NT in 2015 on a camper trailer that was brought from Cairns, Queensland.
Although the bees were not carrying the varroa mite or other diseases, authorities are monitoring the NT for any signs of Asian honey bee.
Biosecurity officers are also carrying out awareness campaigns in the Katherine and Tennant Creek areas to educate locals about the pests.
The photo above shows the Asian honey bee (at right) compared with the standard European honey bee (at left).
Report Asian honey bees
You must report suspect bees to NT Quarantine by calling the exotic plant pest hotline on 1800 084 881.
You can find out what to look for by getting the Asian honey bee brochure (352.1 kb) and poster (900.0 kb).