Water drilling licences
GPS coordinates for bores and pumps
The Water Resources office records location details of bores and river pumps in the Northern Territory (NT).
Having accurate information helps with the allocation, use, management and administration of water.
If you are giving location information to Water Resources using a hand-held GPS receiver, use the following navigation settings.
Contact Water Resources for more information.
Position format
This may also be called the Coordinate System.
Select UTM / UPS. Set the units to metres.
These coordinates are described as eastings and northings.
This UTM map projection shows areas using Map Grid of Australia (MGA) zones.
There are two zones in the NT.
MGA Zone 52 is west of 132º longitude.
MGA Zone 53 is east of 132º longitude.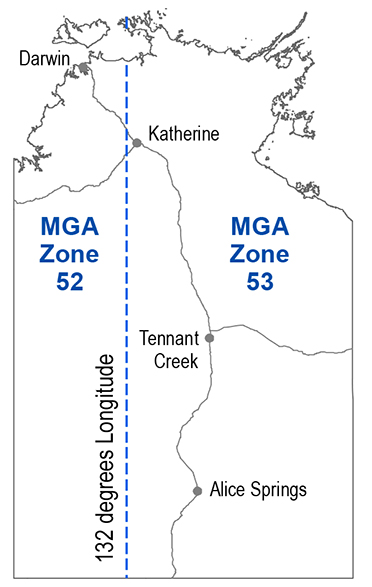 Map datum
From the listing of datums choose GDA94 (Geodetic Datum Australia 1994). If this datum is not available, select WGS84 (World Geodetic System 1984).
Note that WGS84 is the default datum when you buy a GPS. The difference between these datums is roughly 1m on the ground. Your GPS will be accurate to around 10m.
Recording coordinates
When you record a coordinate location, also note the MGA zone. The zone reference is displayed as 52K or 53L on the GPS.
Do not record the zone letter or the leading 0 for the easting.
For example, coordinates for the Department of Land Resource Management office would be recorded as shown in this table.
| Zone | Office | Easting | Northing |
| --- | --- | --- | --- |
| 52 | Palmerston | 715567 | 8619567 |
| 53 | Katherine | 205020 | 8398923 |
| 53 | Alice Springs | 385839 | 7371120 |
The easting is noted before the northing, so a single coordinate location is recorded as: 715567, 8619567.
More information about GPS
For more information about GPS go to the Geoscience Australia website.
Print all pages in this section
---
Last updated: 21 January 2016
Give feedback about this page.
Share this page:
URL copied!