Durian
This page has information about growing durian in the Northern Territory (NT).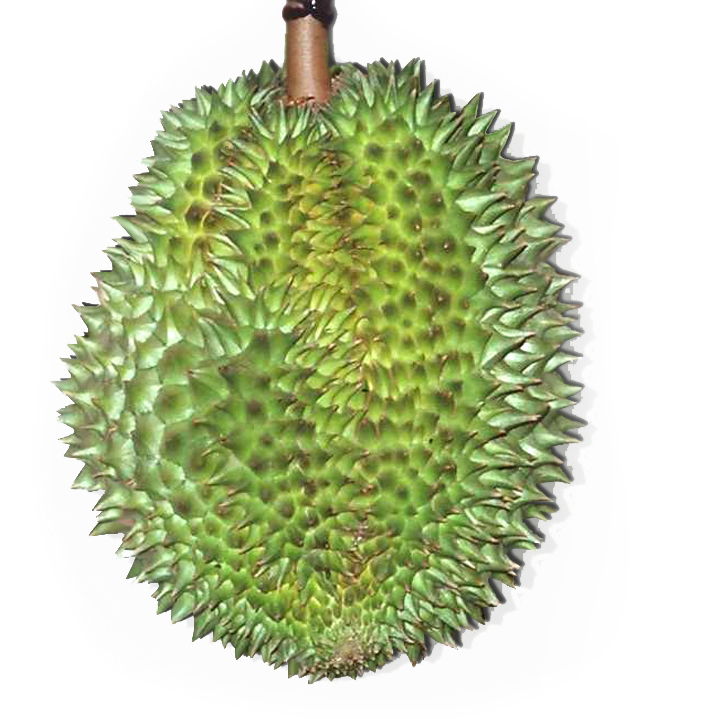 About durian
Name: durio zibethinus (bombacaceae), durian.
Origin: Southeast Asia.
Distribution: durian is mostly grown in Thailand, Malaysia and Indonesia.
Australian distribution: durian grows around Darwin in the NT and in north Queensland.
Description
Durian trees can grow up to 40m tall in tropical forests.
In orchards they are kept at a maximum height of around 20m.
Mature durian trees have thick, straight trunks with branches up the length of the tree.
Flowers are clustered on the trunk and branches. Fruit can be oval or round. The fruits are between 15cm and 30cm long and from 12cm to 15cm wide.
Each fruit can weigh up to 8kg. Its yellow-green rind is thick and covered with pointed spines. Handling without gloves can be painful.
Preferred climate and soil
Durian thrives in very hot and humid tropical environments. It does not like cold temperatures or low humidity.
Durian needs deep, well drained and fertile soils that are rich in nutrients and organic matter.
Varieties
There are many durian clones available in NT. The most common are gun pun, mon thong and gob.
Propagation
If planting multiple durian trees, you should plant different clone types in separate rows. Plant a mix of early, late and medium flowering clones.
Trees can be planted 10m to 12m apart in a square or triangular planting system. They need to be protected from the wind. For the first two years they will also need shading.
The trees should be planted on mounds and mulched.
Pests and disease
There are several pests and diseases that affect durian, like the fruit-spotting bug, green ants, meat ants and phytophthora disease.
You will need to look after your trees to reduce crop loss and damage.
Fruit season
Durian fruits between November and February in the NT.
Harvest
Ripe fruit falls from the tree. Most commercial growers tie the fruit to the tree or use nets and tarpaulins to catch the falling fruit.
Storage
Damaged durian fruit has a shelf life of around two to three days. Undamaged fruit can be kept for a week if stored between 5 and 10 degrees Celsius.
Eating
Durian is usually eaten fresh. It is best after it has been chilled. The flesh can be canned and dried.
Durian is a popular flavouring for ice cream.
---
Last updated: 26 February 2016
Give feedback about this page.
Share this page:
URL copied!