Feral buffalo
Buffalo are a large herbivore weighing between 450kg and 1200kg. They are found in floodplain, woodland and sandstone escarpment areas where there is surface water.
Buffalo in the Northern Territory (NT) are generally found only in areas that receive greater than 1000mm of rainfall each year.
Water buffalo were imported into the NT in the 19th century as working animals and meat for the remote northern settlements. When the early settlements were abandoned, the buffalo were released, where they became feral.
Buffaloes have grown in numbers and are a pest in the Top End, particularly in the northern floodplains.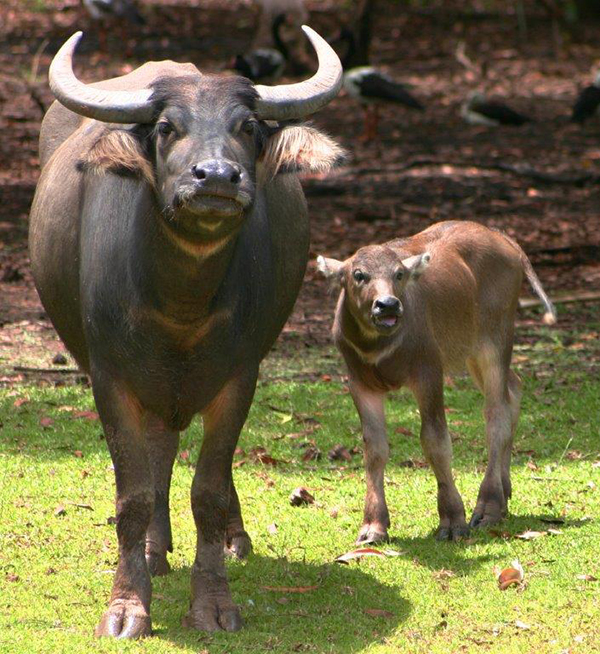 Impacts
Feral buffalo can cause huge environmental damage through their movement and feeding.
On floodplains, buffalo move along pathways called swim channels.
These channels destroy vegetation and erode the soil by creating new drainage channels. Swim channels have caused saltwater intrusion into freshwater plains, particularly in the Mary River area. This has led to the loss of large areas of paperbark forest.
Buffalo have also helped spread weeds, particularly Mimosa pigra on floodplains.
Feral buffalo have reduced the nesting activity of magpie geese, which has a major impact on the natural ecosystem and for recreational hunters.
Other evidence suggests that buffalo grazing may reduce the nesting activity of crocodiles, which has impacts on wild crocodile populations and commercial crocodile practices.
Management
Aerial shooting is the best way to control buffalo numbers. There is also some success with ground shooting. The NT Government works with Indigenous communities to help manage and monitor feral buffalo.
Currently some herds of buffalo are domesticated and there is pet meat shooting and live export of buffalo from some areas.
Generally, buffalo herds on pastoral lands are managed, but the largest population, found in Arnhem Land, is increasing in size and range and receives limited management.
For more information read the feral buffalo Arnhem Land distribution and abundance survey report PDF (921.7 KB).
---
Last updated: 01 September 2017
Give feedback about this page.
Share this page:
URL copied!