Install a child restraint
You must use the manufacturer's instructions when installing a child restraint so that your child is safe.
If you need help, contact an authorised vehicle inspector or Kidsafe NT.
Safety tips for installing a child restraint
Always follow the manufacturer's instructions.
Place the restraint in the right location and direction for your child's age.
Make sure the tether straps are securely anchored to the vehicle and pulled tight without twisting.
Adjust the harness to fit your child's body comfortably yet firmly.
Never use an infant restraint in the front passenger seat if your car has a front passenger airbag.
Never place a child restraint on a vehicle seat that faces rearward or sideways.
Anchorage points for child restraints
All infant restraints, child seats and child harnesses must have the tether strap attached to your vehicle's anchor fitting.
Refer to your car manual to find the anchor fitting. It can also be known as an anchor bolt or an anchor point.
All passenger vehicles fitted with forward-facing rear seats manufactured on or after the dates listed below will have child restraint anchorage points:
sedans - July 1976
station wagons and hatchbacks - January 1977
light passenger vans (up to 12 seats) - January 1986
four-wheel drive vehicles - July 1990.
Generally, sports cars, utes, panel vans and vehicles fitted with side-facing rear seats do not have child restraint anchorage points.
New child restraints
Most new child restraints have a tether-strap fitting that looks like a hook. The hook-shaped fitting attaches to a hold in the anchorage point. See the example below.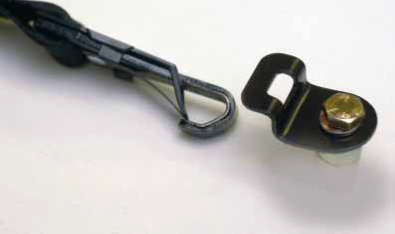 Old child restraints
Older child restraints have a tether strap fitting that looks like a keyhole.
The keyhole-shaped fitting attaches to a raised bolt in the anchor.
This type of fitting was not built into vehicles after 1993. See the example below. Spare fittings for this system may no longer be available.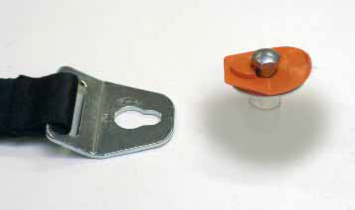 Vehicles without anchor points
Vehicles that do not have child restraint anchorage points must not be used unless they are modified to provide one or more anchorage point.
The modification must ensure that the vehicle's seat is not unduly loaded by the child restraint in the event of an accident.
This will generally involve the fitting of a restraint system that has been manufactured in line with relevant Australian Design Rules and Australian Standards.
Where commercially made products are not available (such as vehicles fitted with side-facing rear seats), a suitably qualified engineer may be required to design an appropriate restraint system. Read more about vehicle modifications and engineering certification.
It is important that anchorage point accessories are fitted strictly in accordance with the manufacturer's instructions by suitably qualified persons, and only to the types of vehicles they are designed for.
Alternately, child restraint anchorage points may be installed in accordance with the requirements detailed in the National Vehicle Standards Bulletin. For more information go to the Australian Government's Department of Infrastructure and Regional Development website.
If you make any modifications to your vehicle, you must get approval from the Motor Vehicle Registry (MVR).
If you need more information about vehicle modifications and child restraints, contact the MVR.
More information on fitting child restraints
For more information about fitting child restraints get a copy of V25 Child restraints (95.2 kb).
To find out more about keeping your child safe in a vehicle, read the National Child Restraint Best Practice Guidelines on the Neuroscience Research Australia website.
This guide provides recommendations that have been approved by the National Health and Medical Research Council.
Kidsafe NT
www.kidsafent.com.au
Phone: (08) 8941 8234
Road Safety
Phone: 1800 720 144