Adding lights to your vehicle
If you want to fit extra lights to your vehicle such as driving lights, fog lamps and search lamps they must meet the standards listed on this page.
Extra driving lamps, fog lamps or work lamps must be fitted in a way that they do not:
block the driver's view of the road
stick out in a way that could injure a person close to the vehicle.
These lamps may not be allowed in other states and territories.
Main or high beam headlamps and driving lamps
Vehicles with a gross vehicle mass (GVM) of less than 12 tonnes may have a maximum of four main beam headlamps.
Vehicles with a GVM of more than 12 tonnes may have a maximum of six main beam headlamps.
Driving lights or spotlights can be fitted in addition to main beam headlamps and can include LED light bars and spotlights.
If you get a driving lamp exemption, you can have as many as eight main beam and driving lights fitted to your vehicle.
If you are fitting main or high beam headlamps and driving lamps to your vehicle, keep in mind the following:
driving lamps can be mounted at any height, but must be set at equal positions on each side of the front of the vehicle
LED light bars must be fitted in the front centre of the vehicle as shown in the diagram below
light from a main beam head lamp or driving lamp must be directed so it does not cause problems for other drivers
all driving lamps must turn off when the vehicle's main beam head lamps are set to low beam (dipped).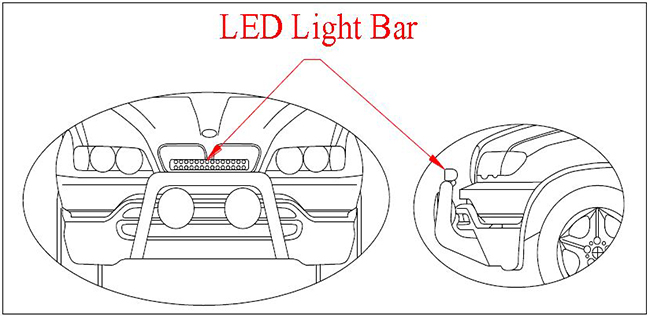 Fog lamps
Fog lamps are used when it is hard to see due to fog, smoke, dust and heavy rain.
A vehicle may be fitted with no more than two fog lamps that must be mounted:
symmetrically
no higher than the top of the dipped beam headlamps
less than 400mm in from the sides of the vehicle
at least 600mm apart
at least 250mm from the ground.
The fog lamp beam must angle slightly downwards so the top of the fog lamp beam is lower than the actual fog lamp at a distance of 8m.
Fog lamps must work independently of the headlights and driving lamps.
Light from these lamps must not reflect into the driver's eyes.
Search or work lamps
Search or work lamps are extra lights used for checking loads, reading road signs and seeing off the road. They can be fitted anywhere on a vehicle.
Drivers must take care not to dazzle themselves or other road users with these lights.
More information
For more information get a copy of V14 NT Additional lighting (driving, fog and search lights) PDF (300.6 KB)
---
Last updated: 25 October 2016
Give feedback about this page.
Share this page:
URL copied!