Get your heavy vehicle licence
Introduction
A heavy vehicle has a gross vehicle mass (GVM) or aggregate trailer mass (ATM) of more than 4.5 tonnes.
There are five types of heavy vehicles. Each heavy vehicle type requires a specific driver's licence.
If you want to get your heavy vehicle licence you must follow these steps:
Step 1. Learn to drive that type of heavy vehicle.
Step 2. Pass a heavy vehicle theory test.
Step 3. Pass a driving assessment in an approved vehicle.
Theory and practical test results remain valid for 12 months from the date of assessment.
If you do not upgrade your licence within this period you will need to sit your test again.
Theory tests
There are two heavy vehicle theory tests.
Heavy vehicle rigid for class LR, MR and HR.
Heavy vehicle articulated for class HC and MC.
To prepare for the theory test you must read the following:
Check if you are ready for your driver knowledge test and take the practice driver knowledge test.
Read the list of questions you might be asked for the heavy vehicle knowledge test - rigid PDF (3.1 MB) or the heavy vehicle knowledge test - articulated PDF (2.9 MB).
Heavy vehicle rigid
For licence classes LR, MR and HR you may be required to pass a theory test at an MVR office or through an approved training provider.
Heavy vehicle articulated
For licence classes HC and MC you must go to an approved training provider to complete your articulated training course. Included is your theory knowledge test.
Learning to drive
When learning to drive a heavy vehicle, you must be accompanied by an appropriately licensed person occupying the seat next to the driver, or in the case of buses, the seat nearest the driver.
You must display a DRIVER UNDER INSTRUCTION sign at the rear of the vehicle. The sign must be at least 530mm wide and 300mm high with DRIVER UNDER INSTRUCTION in black writing, at least 75mm high and on a yellow background.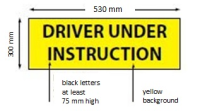 All drivers of vehicles with a GVM greater than 15 tonnes must have a zero blood alcohol concentration.
Print all pages in this section
---
Last updated: 16 March 2015
Give feedback about this page.
Share this page:
URL copied!