Larapinta Trail current conditions
This page has the latest information on conditions of the Larapinta Trail.
Due to ongoing rain, many of the creeks and rivers in Central Australia currently contain water, which may be flowing. Walking some sections of the trail will involve frequent deep water crossing and some sections of the trail will not be accessible by vehicle.
These conditions also mean there has been substantial growth of grasses and some sections of the trail will be difficult to define.
If you are walking you should not try to cross fast-flowing water. Take care if entering water with heavy packs.
Parts of the Larapinta Trail affected include:
sections 4 and 5 - the Hugh River
sections 6 and 7 - Ellery Creek
section 9 - Ormiston Creek
sections 10 and 11 - the Finke River and Davenport Creek
section 12 - Redbank Creek.
Other smaller creeks will also be carrying large volumes of water.
Fires are burning near the Woodlands Trail and Section 2 of the Larapinta Trail close to Simpsons Gap in Tjoritja / West MacDonnell National Park.
Please use caution if attempting these walks. There may still be flames and hot embers around the
trails.
Some parts of the trails may already be burnt, which will make them hard to follow.
Please follow directions given by rangers and cautionary signs.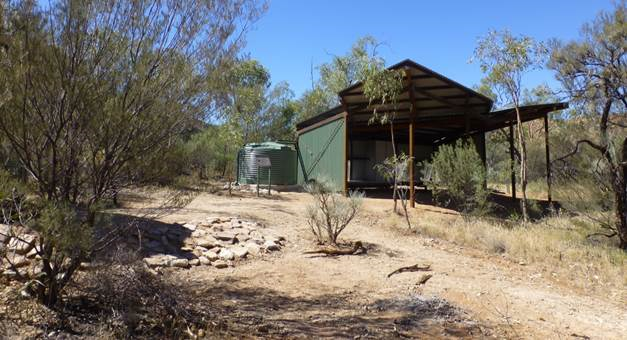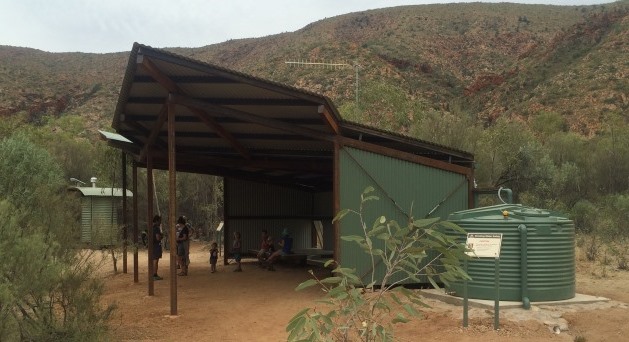 The photographs above show the new shelters built at Hugh Gorge and the Section 4/5 junction on the Laparinta Trail.
Section
Trail condition update
Section 4
Due to track improvements, the total distance for Section 4 is now 17.9km. The increase in distance relates to work on the trail between Brinkley Bluff and Stuart's Pass. Brinkley Bluff to Rocky Cleft is now 1.6km. Rocky Cleft to Stuart's Pass is now 2.8km.
Section 4/5 and 5/6

The Section 4/5 trailhead has moved 900m from Birthday Waterhole to the Section 4/5 junction. The water tank has also been removed from Birthday Waterhole.

Two new shelters have been built at Birthday Waterhole and Hugh Gorge. Facilities include water tanks, toilet, sleeping platforms and tent pads.

Section 3 and 4
Standley Chasm is privately owned and operated. An entry fee applies per person, which must be paid by all visitors, including Larapinta Trail walkers passing through the chasm or using Section 3 and 4 of the trail. Overnight campers can stay at Standley Chasm. Camping fees apply. Go to the Standley Chasm website or call

(08) 8956 7440

for details.
Section 1/2 (Simpsons Gap)
Section 7/8 (Serpentine Gorge)
Section 10/11 (Finke River Trailheads)
New shelters are at the Simpsons Gap, Jay Creek, Serpentine Gorge and Finke River trailheads. Each shelter has a toilet, clean water tank and sleeping platform. The free gas cookers at Jay Creek and Finke River have been removed.
Section 9 and 10
There is a kiosk at Ormiston Gorge available to all visitors and walkers as well as food drop storage areas at the Ormiston Gorge visitor centre.
Weather
Go to the Bureau of Meteorology website to find out about weather conditions for the area.
Typical weather from May to August is clear and sunny days, often with a chilly breeze.
You will need warm clothes such as thermal wear, a warm hat or beanie and a sleeping bag rated for temperatures lower than -5 degrees Celsius.
Outside of these months the weather is warm to very hot, often reaching temperatures over 40 degrees Celsius.
| Temperature (Celsius) | Jan | Feb | Mar | Apr | May | Jun | Jul | Aug | Sep | Oct | Nov | Dec |
| --- | --- | --- | --- | --- | --- | --- | --- | --- | --- | --- | --- | --- |
| Maximum | 36.3 | 34.9 | 32.6 | 28.1 | 23 | 19.9 | 19.6 | 22.5 | 27.1 | 30.8 | 33.6 | 35.3 |
| Minimum | 21.2 | 20.7 | 17.4 | 12.5 | 8.3 | 5.2 | 4 | 6 | 10.2 | 14.7 | 17.8 | 20.2 |
Last updated: 22 March 2017