Larapinta Trail current conditions
Heat warning
Upcoming temperatures are expected to be higher than 30oC. Make sure you check weather conditions when planning your walk.
Temporary track markers
Temporary track markers are in place along sections of the trail after bushfires in the region. These markers assist with navigation. Please follow all temporary track markers.
This page has the latest information on conditions of the Larapinta Trail.
You must study and carry quality maps if you want to walk the trail.
You should pay particular attention to changes in direction along or near creek lines and watercourses where the grass is thicker.
Find out about trail safety and who to contact for more information.
Section
Trail condition update
Various

Heat warning - Central Australia are expected to receive temperatures higher than 30oC in the coming weeks. You should check weather updates regularly on the Australian Bureau of Meteorology's website when planning your walk. You can also contact the Alice Springs regional office on 08 8951 8250.

There have been several cases of gastroenteritis reported recently on the Larapinta Trail. Rangers have been actively managing this outbreak with regular cleaning, water tank treatment and walker education. Help prevent the spread of gastro by:

using hand sanitiser after going to the toilet and before eating or preparing food
protecting your food and water from flies
using designated toilet facilities where possible, or digging a 10-15cm deep hole 100m from the trail, campsites and watercourses
treating all tank and surface water with purification tablets and/or boiling.

New solar-powered USB charging stations have been installed at the Finke River, Serpentine Chalet, Serpentine Gorge, Hugh Gorge, 4/5 junction and Jay Creek shelters. The charging stations can be used to charge cameras, phones and other small electronic devices via your USB cable.

Section 3 and 4

Standley Chasm is privately owned and operated. An entry fee applies per person, which must be paid by all visitors, including Larapinta Trail walkers passing through the chasm or using section 3 and 4 of the trail. Overnight campers can stay at Standley Chasm. Camping fees apply. For more information go to the Standley Chasm website or call 08 8956 7440.

Section 4

Due to track improvements, the total distance for section 4 is now 17.9km. The increase in distance relates to work on the trail between Brinkley Bluff and Stuart's Pass. Brinkley Bluff to Rocky Cleft is now 1.6km. Rocky Cleft to Stuart's Pass is now 2.8km.

Section 4/5 and 5/6

The section 4/5 trailhead has moved 900m from Birthday Waterhole to the section 4/5 junction. The water tank has also been removed from Birthday Waterhole.

Shelters are now available at Birthday Waterhole and Hugh Gorge. Facilities include water tanks, toilet, sleeping platforms and tent pads. View photos of the shelters below.
Section 7 and 8

A shelter is now available at the section 7/8 trailhead at Serpentine Chalet. The shelter has two new rain water tanks, sleeping platforms and cupboards.

Section 9 and 10
There is a kiosk at Ormiston Gorge available to all visitors and walkers as well as food drop storage areas at the Ormiston Gorge visitor centre. To access the food drop storage area, you will need to collect a key from the Tourism Central Australia Visitor Information Centre in the Alice Springs Todd Mall.
The photographs below show the shelters built at Hugh Gorge and the section 4/5 junction on the Larapinta Trail.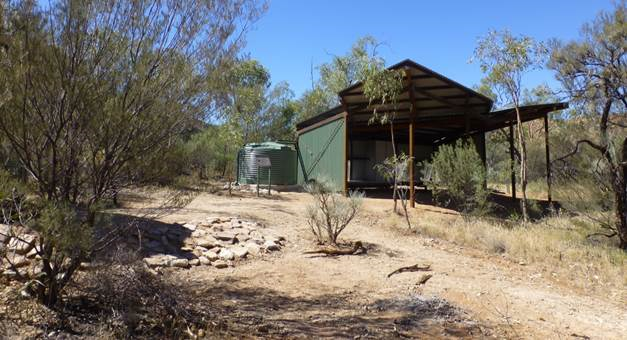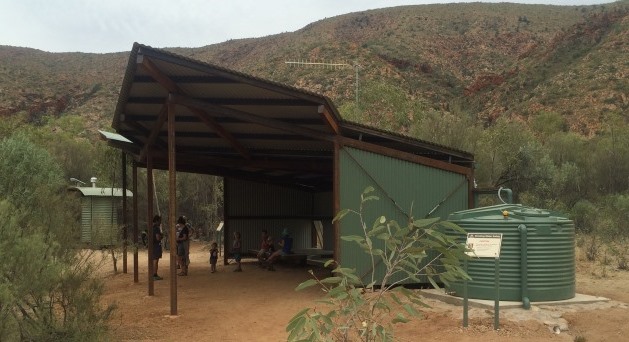 Weather
To find out about weather conditions for the area, go to the Bureau of Meteorology website.
Typical weather from May to August is clear and sunny, often with a chilly breeze.
You will need warm clothes such as thermal wear, a warm hat or beanie and a sleeping bag rated for temperatures lower than -5 degrees Celsius.
Outside of these months the weather is warm to very hot, often reaching temperatures over 40 degrees Celsius.
| Month | Minimum temperature (Celsius) | Maximum temperature (Celsius) |
| --- | --- | --- |
| Jan | 21.2 | 36.3 |
| Feb | 20.7 | 34.9 |
| Mar | 17.4 | 32.6 |
| Apr | 12.5 | 28.1 |
| May | 8.3 | 23 |
| Jun | 5.2 | 19.9 |
| Jul | 4 | 19.6 |
| Aug | 6 | 22.5 |
| Sep | 10.2 | 27.1 |
| Oct | 14.7 | 30.8 |
| Nov | 17.8 | 33.6 |
| Dec | 20.2 | 35.3 |
Last updated: 14 October 2019