Window on the Wetlands
You can visit Window on the Wetlands on your way to Mary River National Park and Kakadu National Park to get an understanding of the landscapes you're about to see.
Get the Window on the Wetlands fact sheet and map PDF (728.4 KB).
What to see and do
The top floor of the centre has 270 degree views of the wetlands below, which during the Wet Season can be complete with a lightning show.
For half of the year the wetlands are flooded, while in the Dry Season they are baked and dried out. The region is one of great contrast.
Interactive displays will tell you about seasonal changes, the ecological processes within the wetlands and the problems of feral animals and weeds.
There is detailed information on wildlife and local Aboriginal and European history.
How to get there
Window on the Wetlands Visitor Centre is on Beatrice Hill, one of the highest points on the Adelaide River floodplain.
Travel 70km south of Darwin along the Stuart and Arnhem Highways.
Turn left off the Arnhem Highway at the signs, before you reach the Adelaide River.
There is a steep walk from the car park to the entrance of the Visitor Centre. There is a drop-off area at the entrance.
Map
Below is a map to help you get to the Window on the Wetlands Visitor Centre.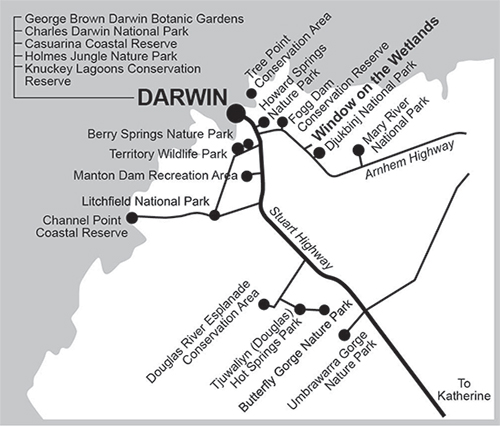 Opening hours
The Window on the Wetlands Visitor Centre is open daily from 8am to 5.30pm.
Closed on Christmas Day.
Entry is free.
Contact
Phone: (08) 8988 8188
Visitor facilities
Window on the Wetlands has all of the following facilities:
information
drinking water
public toilets
scenic lookout.
Last updated: 13 October 2020
Share this page: