Anzac Centenary
Unique Territory History WWI
Prepared by the Northern Territory Library, Department of Arts and Museums.
On 1 January 1911 responsibility for the Northern Territory transferred from South Australia to the Commonwealth of Australia. Although Darwin was not then a garrison town, it was considered to be of strategic importance in the possible event of an invasion from the north. A Cable Guard formed in 1912 and a Wireless Station was erected at Gardens Road in 1913. A 1912 defence plan to establish a secondary naval fleet base at Port Darwin was put on hold until a decision was made on the building of a rail link to the southern states.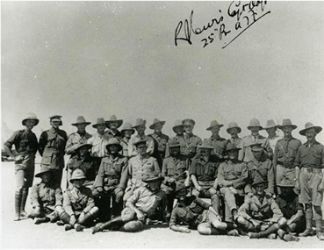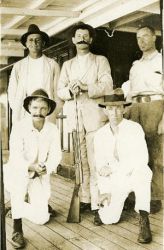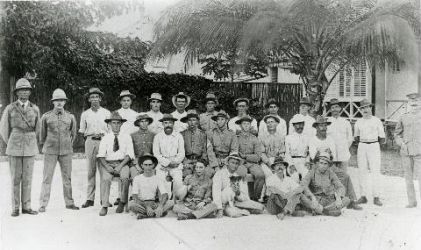 On 4 August 1914 Britain declared war on Germany and its allies. The Australian Government offered Great Britain a military force of 20,000 volunteers and the Australian Imperial Force (AIF) formed on 15 August 1914. The response to the call-up was positive, with many rural Australians marching long distances to enlistment camps in the capital cities.
As there was no enlistment camp in the Northern Territory, twenty four Darwin volunteers petitioned the Administrator in October 1914 to secure enlistment for them in one of the earliest contingents leaving Australia. The request was initially denied, as it was thought that the civilian population would be required to form a garrison to defend Darwin in the event of an invasion. The refusal caused a public outcry and the authorities were publically criticised for their refusal to permit Territorians to enlist. As late as 23 February 1915, the Federal Government was still of the opinion that it was undesirable that any recruits should be enlisted from the Northern Territory.
The Army Chief of Staff issued a statement that it was never intended officially to have recruiting depots in distant parts of the Commonwealth, as it would increase cost and cause inconvenience. Those wishing to enlist from the Northern Territory were instructed to 'head south' and eleven recruits left Darwin for Townsville on the Taiyuan on 4 March 1915, closely followed by a further five recruits on the Aldenham on 8 March 1915. These first Northern Territory recruits were sworn in at Townsville and sent on to Brisbane to enlist.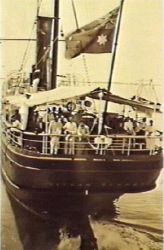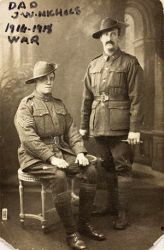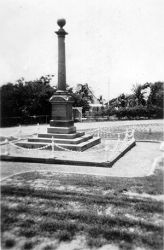 The first official Northern Territory Contingent of the Australian Expeditionary Force sailed from Darwin on the Changsha on the 25 April 1915. A second contingent sailed on the Montoro on 8 August 1915 and a third on the SS Eastern on 16 August 1915. It was estimated at the time that there were another one hundred 'eligibles' in the Northern Territory and the fourth official contingent, the largest to leave Port Darwin, sailed on the SS Montoro on 11 October 1915 and was later attached to the 8th Battalion A Company.
As the realities of war became known, the recruitment numbers across Australia suddenly dropped. A proclamation in the Commonwealth Government Gazette on 23 December 1915 set forth that every male between 18 and 45, who was within the boundaries of the States and Territories of the Commonwealth of Australia, must furnish details on a Commonwealth Recruiting Card within 7 days of receiving it. On the Prime Minister's request, a local recruiting committee consisting of the Mayor and the Darwin Town Councillors was constituted on 15 February 1916.
By March 1916 it was estimated that over 200 men had left Darwin to enlist and a further 100 recruits were preparing to leave. The Northern Territory Times noted that the numbers could have been higher, were it not for the fact that the staff of the Eastern Extension Cable Company, the Overland and Radio Telegraphs, the banks, and the meatworks were urgently required in the national cause.
By this time, the Australian troops had moved to France and were experiencing huge losses. Approval was granted in July 1916 for the enlistment of youths between the age of 18 and 19 years of age with parental permission, on the condition that they did not embark until such time as they reached the age of 19 years. In order to fill increased quotas, local recruitment committees, with the help of the press, put enormous pressure on those who had not yet enlisted.
A contingent of twenty three volunteers that included local born Eddie Barnett, Robert Shepherd and Willie Allen left Darwin late in December 1917. By this time, the war was now seen by many as a great tragedy and the reporting in the Northern Territory Times had become more sombre in tone. Recruitment continued, with a further six volunteers sailing to Brisbane in January 1918 and the Northern Territory Recruitment Officer put out the call for the raising of the "Territory Hundred".
On 11 January 1918 a meeting was convened to consider the establishment of a Roll of Honor of Northern Territory soldiers who had fallen in the war. As far as the records could be traced, 283 men had enlisted from Darwin and a committee formed to establish a lasting memorial to honour the Northern Territory soldiers who had lost their lives. In September 1918 the Darwin Town Council was criticized by the press and townspeople for failing to extend an official welcome to returning soldiers. In 1920 planning was underway for a suitable memorial. It was suggested that as the Northern Territory population has always been a floating one, any man who has been identified with Northern Territory life for twelve months at least and afterwards enlisted, should have his name inscribed on the memorial.
A public meeting in the Darwin Town Hall was convened by the Mayor, Mr. R Toupein, on 17 May 1920 to decide as to the disposal of the Soldiers Memorial Fund, 1917 held in trust. The Soldier's Memorial was erected at Liberty Square, opposite Government House, Darwin and unveiled on 24 April 1921. It was relocated to the Civic Centre in 1970 and then to its present location in Bicentennial Park in 1992.
Alan Davis
Researcher, NT Library
NT Library images
Image 1: Solders - Jean A Austin collection, NT Library. Official contingent of A.I.F. departed Darwin on S.S. Changsha on 26/4/1915. Names and Nos.: Allen, Charles Ernest,1033 ; Bowman, Adam, 1034 ; Buckley, Jeremiah, 1517 ; Butters (aka Buttercase) ; Robert Dingwall,1376 ; Dick, Samuel Henry,1036 ; Downing, Llewellyn Selwyn,1037 ; Edwards, Gilbert Henry (Harry),1038 ; Every, Gilbert,1039 ; Fawcett, James Edward,1040 ; Garr,William,3051 ; Giles, Leslie Henry,1044 ; Godfrey, John Stewart,1042 ; Gracie (aka Herring), Frank Valentine, 1041 ; Greenshields, John Hamilton,1042 ; Gregory, S.A., - ; Levy, Lerner Vivian,1045 ; Lewis, Robert James,Capt ; McNeil, James,1048 ; Meredith, Frederick Richard,1047 ; Morrison, Alfred P.,- ; Parkhouse Victor Roy,7361 ; Pott, Harry Bunce,1051 ; Rogers, Cyril Stewart, 1052 ; Stiles, William,1053 ; Termansen, Frank,1064 ; Xuereb, Anthony, 1055.
Image 2: Military Men - Ronald Lister collection, NT Library. Standing L-R : Lieutenant Albert Borella, VC (Bert Borrelli [sic]) 275 26th Infantry Battalion VC MM ; Lieutenant Robert Dingwall Buttercase (Bob Butters) 1376 41st Battery KIA 05 April 1918 ; James Park, 658 (also 53A) 13th Light Horse, 1st reinforcements; Private James Lawrence Cain (Jimmie Cain) 2060 9th Battalion, 5th Reinforcement KIA 20 April 1916 ; Private Frank Thompson 2057 9th Battalion, 5th Reinforcement.
Image 3: Volunteers - Frank Geddes collection, NT Library. NT Volunteers in the BAT grounds (Lyons Cottage). L. A. Giles in uniform, centre front; to left J. E. Fawcett; to right Harry Pott; Col. Gilruth extreme left.
Print all pages in this section
Last updated: 04 February 2019
Share this page: