About the Anzac Spirit Study Tour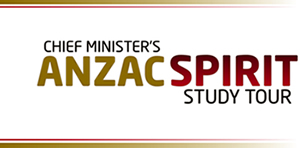 The Chief Minister's Anzac Spirit Study Tour promotes the importance of Anzac Day, Australia's involvement in various conflicts since, and the importance of peacekeeping missions today.
The 2017 study tour will enable three students and one teacher chaperone to visit France for a tour of World War 1 battlefields and also attend the Anzac Day commemorations in Villers-Bretonneux, France.
All costs for the study tour will be covered including travel, accommodation, insurance, meals, uniforms, visa expenses, and additional expenses for the duration of the seven to 10 day tour.
Entries closed
Entries for the 2017 tour are now closed. Read about the winners for the 2017 tour.
Entries for the 2018 tour will open in 2017 on a date to be advised.
Go to how to enter for more information.
What the tour involves
The 2017 Chief Minister's Anzac Spirit Study Tour will support students to explore the history of Anzac Day and the continuing importance of Australia's involvement in various conflicts and peacekeeping missions.
It will provide an exciting opportunity for three year 9 or 10 students, accompanied by one teacher chaperone and an Australian Defence Force chaperone to visit battlefields of significance to Australia and the Anzacs and participate in the 2017 Anzac Day commemorations.

Last updated: 11 November 2016