Rubber bush is a declared Class B and Class C weed.
(Only declared Class B: South of 16°30' S latitude).
Another name for this plant is Calotropis procera.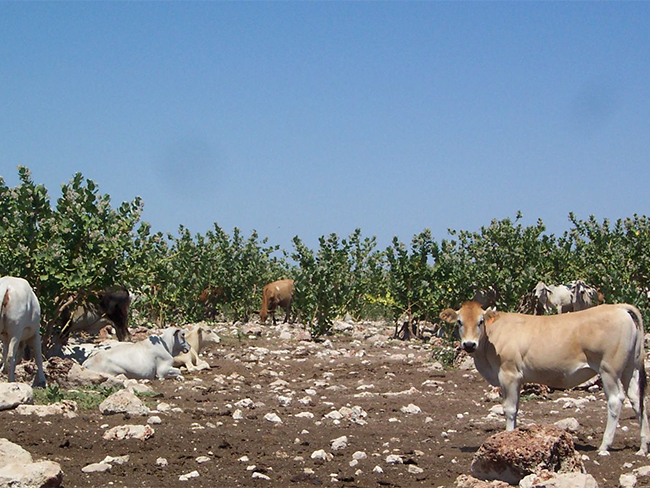 Identification
You should use this as a guide. There may be other plants or weeds that look similar.
If you are unsure, contact the Weed Management Branch.
Habit
These features describe the habit of this plant:
small tree or spreading shrub
generally up to 4m tall
branches may shoot from the base of the plant.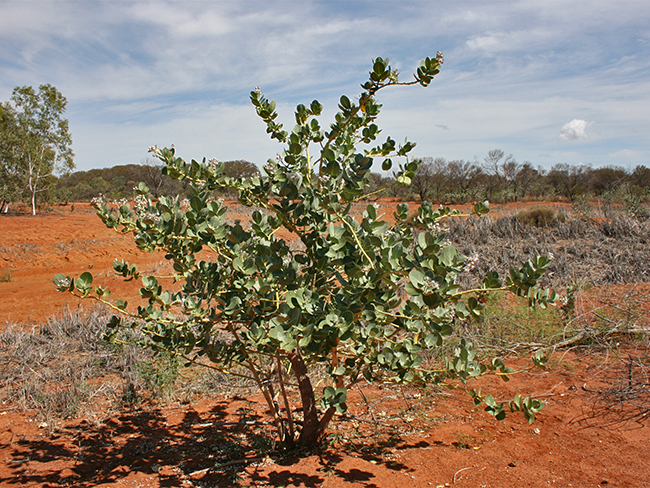 Stems and branches
These features can identify the stems and branches:
smooth and grey-green
covered with a soft, thick corky bark
bark can be brown to whitish.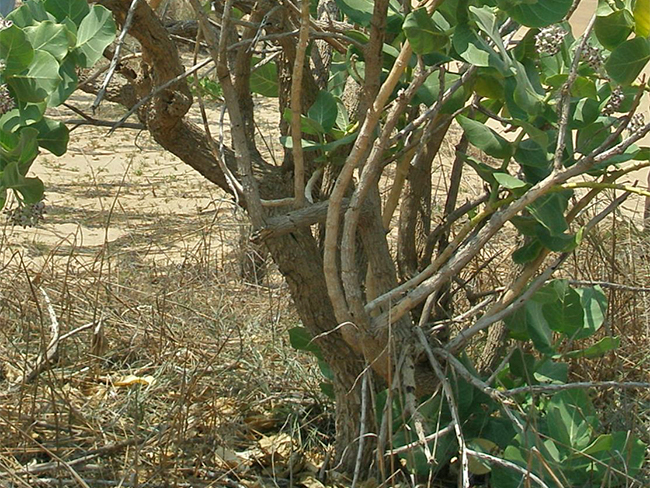 Leaves
These features can identify the leaves:
large
opposite
rubbery
grey-green
5 to 20cm long and up to 10cm wide
each pair of opposite leaves is at right angles to adjacent pairs
leaves do not have stalks, so appear attached to the stem.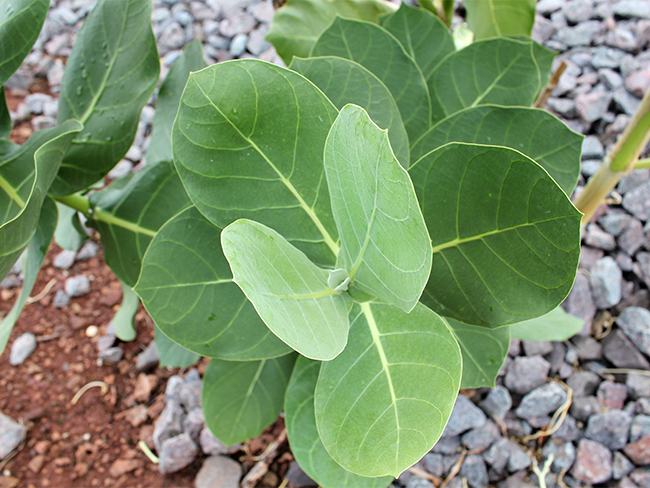 Flowers
These features can identify the flowers:
purplish pink and white
five petals
waxy feel and appearance
grow in groups in the upper leaf forks.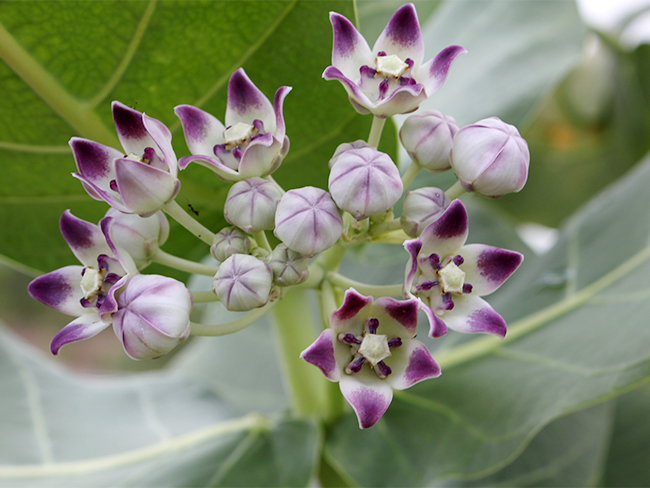 Fruit and seeds
These features can identify the fruit and seeds:
fruit is green
7 to 12cm long
rounded at the base and pointed at the tip
shaped like a mango
contains small seeds which have long silky hairs to aid dispersal.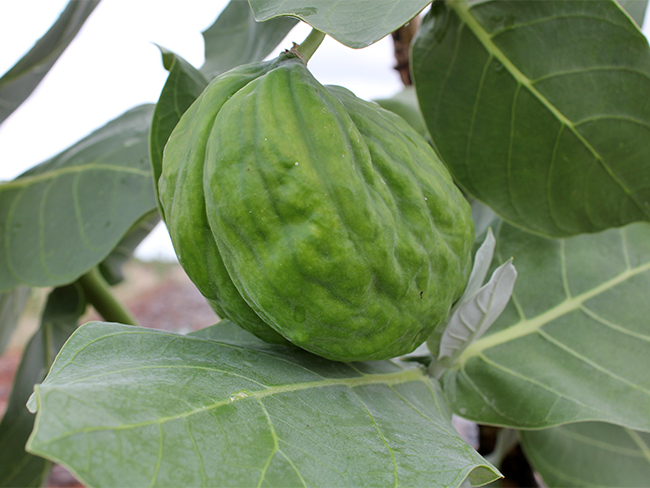 Impact
Rubber bush can have all of the following impacts:
poisonous to humans and stock
can form dense thickets on disturbed and degraded soils
competes with native pastures and smothers native plants
inhibits access to watering points and restricts mustering.
Habitat and distribution
Rubber bush is native to tropical Africa and Asia.
It was probably introduced to Australia as a garden plant, or in the packaging of camel saddles brought from India in the early 1900s.
Rubber bush poses a significant risk to valuable grazing land in the NT. It has the potential to colonise large parts of the Barkly Tablelands and Victoria River District, where it competes with native pastures.
Rubber bush first became established in the Katherine area and then spread along the Roper River in the early 1950s. It has now spread into Western Australia and through the Barkly Tablelands to Tennant Creek.
Spread prevention
Rubber bush seeds are spread by wind and by attaching to animals, clothing and vehicles.
You can prevent the spread of rubber bush by doing all of the following:
map infestations to help develop a management plan
control minor infestations, isolated outbreaks or seedlings first
remove single plants immediately as one plant can create a thick stand in a few years
designate wash down areas and actively work to prevent contamination of clean areas
check vehicles, clothes and animals for seeds
monitor areas that you have treated and watch for re-infestations.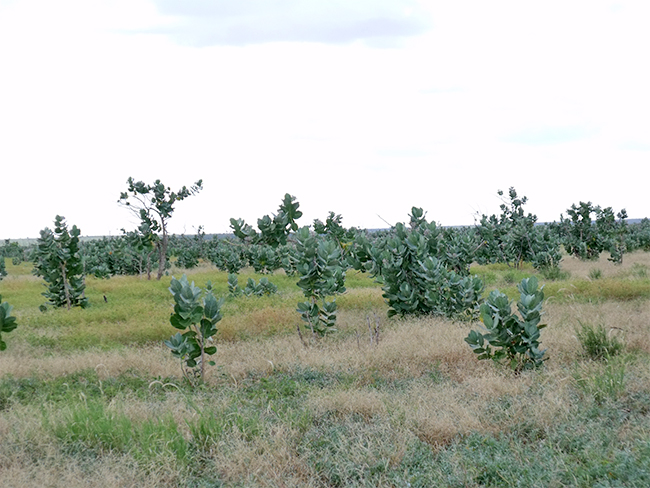 Control
Rubber bush is difficult to remove physically. Chemical control together with maintaining the pasture to prevent re-invasion is the best way to control this weed.
Chemical control
The best time to treat rubber bush is from October to March. Below is a list of treatment methods that can be used.
Chemical and concentration
Rate
Situation, method and notes
Triclopyr 300g/L + Picloram 100g/L
Conqueror®
+ Aminopyralid 8g/L
Grazon™ Extra
750ml/ 100 L (water)
500-750ml / 100 L (water)
Seedling (individuals or infestation):
Foliar spray. Check label for recommended adjuvant product. More effective on plants < 2m as thorough coverage on all leaves is required.
Triclopyr 240g/L + Picloram 120g/L
Access™
1 L / 60 L (diesel)
1 L / 10 L (diesel)
1 L / 60 L (diesel)
Adult (individuals and infestation):
Basal bark < 5cm stem diameter. Spray all stems. Spray to point of runoff.
Thin line up to 5cm stem diameter
Cut stump > 5cm stem diameter
Tebuthiuron (200g/kg)
Graslan - Pending registration. Please check with Weed Management Branch for status confirmation.
1.5-2 g/m2
Seedling or adult:
Application to black clay soils in conjunction with seasonal rainfall. Spread granules according to density of the infestation.
Fluroxypyr (333 g/L)
Starane™ Advanced
3 L / 100 L (diesel)
Adult:
Cut stump method for plants up to 10cm diameter and 3m high.
Last updated: 28 November 2017