Pond apple is a declared Class A and Class C weed and a Weed of National Significance.
Go to the Weeds of National Significance website for more information.
Another name for this plant is Annona glabra.
If you think you may have seen pond apple, or have this weed on your property, do not attempt to control it. Contact the Weed Management Branch immediately for assistance.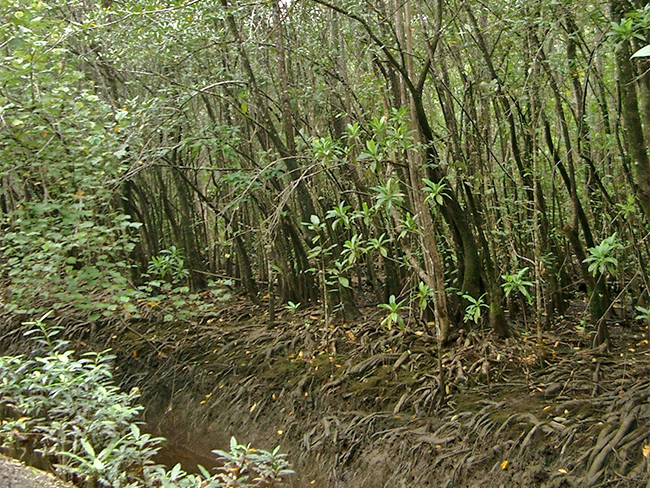 Identification
You should use the following information as a guide. There may be other plants or weeds that look similar.
If you are unsure, contact the Weed Management Branch.
You can also get the pond apple fact sheet (242.9 kb).
Habit
These features describe the habit of this plant:
small tree
usually 3m to 6m tall
occasionally up to 15m tall.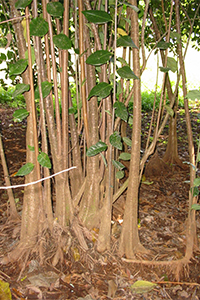 Stems and branches
These features can identify the stems and branches:
grey bark
usually a single trunk
multiple-stemmed plants common when several seedlings germinate together and stems fuse together giving the appearance of a single trunk.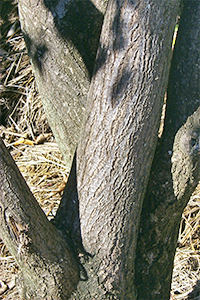 Leaves
These features can identify the leaves:
alternate leaves
7cm to 12cm long
prominent midrib
darker green on the upper surface (depending on age) and paler on the underside.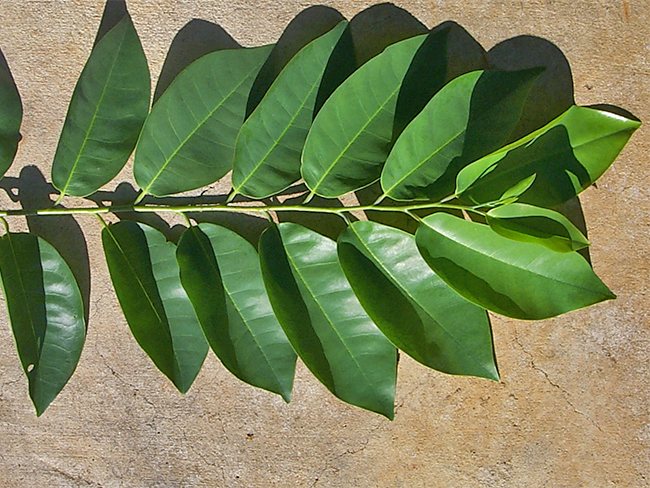 Flowers
These features can identify the flowers:
creamy white to light yellow
2cm to 3cm in diameter
Not easily seen on the tree
three leathery outer petals and three smaller inner petals
red inner base.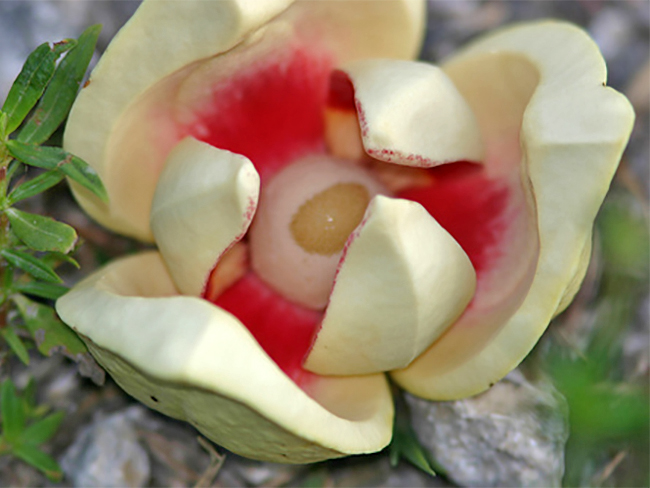 Fruit and seeds
These features can identify the fruit and seeds:
edible fruit
looks like a smooth-skinned custard apple
similar in shape to a mango
5cm to 15cm wide
contains about 140 pumpkin-like seeds.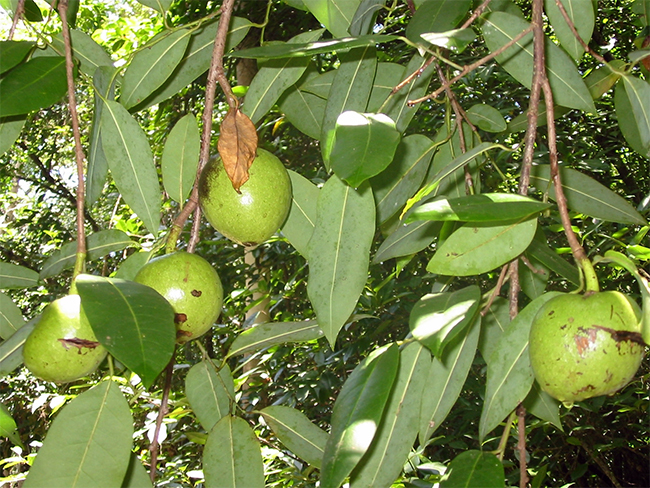 Impact
Pond apple can have all of the following impacts:
create dense stands that compete with and replace native vegetation
create an undesirable habitat for wildlife by replacing food and shelter
establish in undisturbed areas, making it difficult to locate
thrive along fence lines, farm drains and creeks
spoil the appearance and landscape of native areas.
Habitat and distribution
Pond apple is native to the swamplands of North, Central and South America and West Africa. It was introduced to Australia as grafting stock for the custard apple.
Pond apple has invaded 2,000 hectares of the wet tropical region in North Queensland and individual plants are located in northern New South Wales.
It was was found in Darwin rural area in 2010 and in Millner in December 2012.
However the most recent finding in February 2013 is of greatest concern with more than 100 plants growing on multiple properties in Howard Springs.
These properties back onto a drainage line that flows into the Howard River catchment.
In March 2013 a pond apple plant was found on a property in Berry Springs following a report by a member of the public.
All known pond apple plants are being destroyed and further surveys of the surrounding areas are being undertaken by Weed Management Branch staff.
Pond apple could potentially infest all Top End waterways.
It is now one of the worst weeds in Australia as it is very invasive, has a high risk of spreading and has environmental and economic impacts. It is able to grow in the same environment as mangroves. It can tolerate flooding and grows well on riverbanks, in disturbed wetlands and in rainforests.
Control
If you think you may have seen pond apple, or have this weed on your property, don't attempt to control it. Contact the Weed Management Branch immediately for assistance.
Pond apple is on the alert list for environmental weeds.
This is a list of weeds that threaten biodiversity and cause other environmental damage.
Last updated: 28 November 2017