Change your name and contact details: driver licence
Change your name
You can change the name on your licence by supplying certain documents to the MVR.
Only original documents will be accepted. Copies or certified copies will not be accepted.
A new licence with your new name will be issued for free.
For individuals
To change your name you must have at least one Category A and one Category B document as well as:
Change of name due to marriage or divorce
To change to or from a maiden name you need documents that link your married name and your maiden name together.
You must have at least one Category A and one Category B document as well as:
a marriage certificate issued by Births, Deaths and Marriages
or a divorce decree.
Overseas marriage certificates, statutory declarations and commemorative marriage certificates won't be accepted as documents for evidence for name change.
If you are recorded on the MVR's database in both your maiden and married name, a statutory declaration may be accepted to revert back to a maiden name due to a separation or divorce.
Change your contact details
You can change your address and contact details on the MVR quick pay website.
Before you start
To change your address details online you will need your licence number and:
your customer ID shown on your licence or registration renewal notice
or the transaction number shown on your licence renewal notice.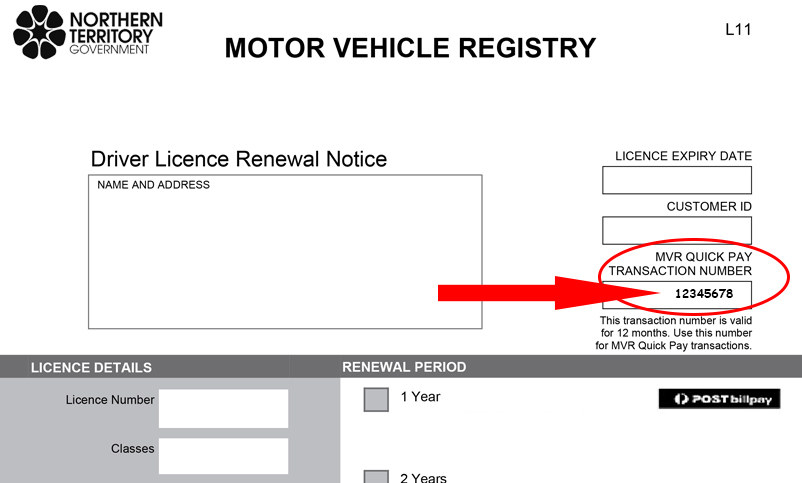 There is no fee to change your address on your licence. Your new licence will be mailed to your address.
Other ways to change your contact details
By phone
You can change your details by phone on 1300 654 628 if you fit all of the following:
your licence is current
the MVR has your digital photo recorded
your licence is not suspended or cancelled.
By email
You can send your new address and contact details and a scanned copy of your NT licence to mvr@nt.gov.au.
By mail
You can change your contact details by writing to:
Motor Vehicle Registry
GPO Box 530
Darwin NT 0801
In person
You can also change your details through a local participating Australia Post Office that provides MVR driver licence and vehicle registration services or visit your local MVR office.
Last updated: 28 November 2017