Renew your driver licence
Changes to NT driver licences and photo ID cards
From November 2020, Northern Territory (NT) driver licences and all other photo ID cards issued by the Motor Vehicle Registry (MVR) will change.
Read about these changes.
You must renew your driver licence to keep your right to drive.
You can renew for a period of one, two, five or 10 years.
You can replace your licence, but there are different rules if your licence is lost, stolen or damaged.
You can also change your name on your licence if you provide the right documents.
Read before you renew below.
You can renew your driver licence online via MVR QuickPay if a new photo is not required.
You will need the transaction number found on the upper, right hand side of your renewal notice.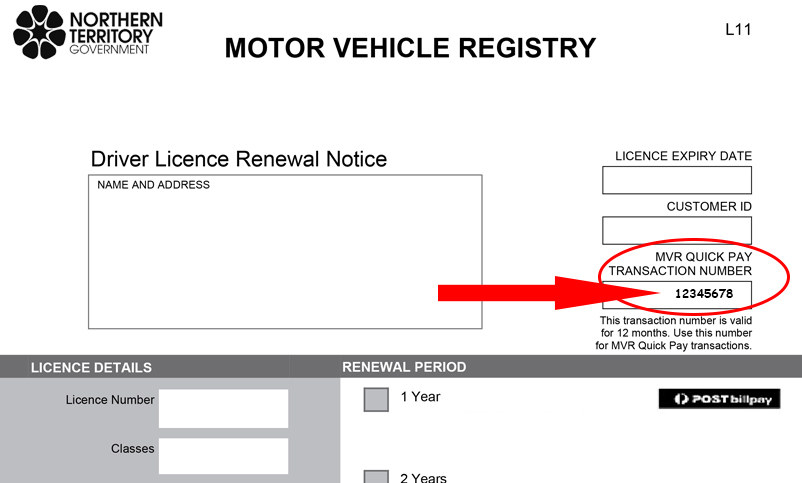 Your licence is effective from the time your payment is approved and it will be mailed to your recorded mail address.
At Australia Post
Any Australia Post Office can process basic licence renewals when there is a barcode shown on your renewal notice next to the renewal period.
Go to a local participating Australia Post Office that provides MVR driver licence and vehicle registration services.
By phone
You can renew by phone on 1300 654 628 if you can meet all of the following:
you are a Northern Territory resident
the MVR has your digital photograph recorded
you are not required to undergo a medical examination or criminal history check
your licence is not suspended or cancelled
you can pay by Visa card or MasterCard.
By email
Email your licence renewal notice to mvr@nt.gov.au.
You can write your Visa or MasterCard details at the back of your renewal notice or call the MVR to provide your credit card details to pay your licence renewal fee.
By mail
Send your licence renewal notice back to the MVR office with the payment details completed to:
Motor Vehicle Registry
GPO Box 530
Darwin NT 0801
In person
You can also renew your driver licence by attending a MVR office with your renewal notice and fee.
Last updated: 06 October 2020
Share this page: