Images
Only use images when they give useful context or information.
Images should not be used if they are stock images or just decorative.
We don't use unnecessary images so the pages are quick to download.
This is important for users who may have a slow internet connection or use the internet on their phones.
All pictures should have:
good visual quality - they should not be pixelated
reasonable dimensions
their proper image proportions maintained.
You must also consider the file size of the image. Images can be resized using Microsoft Image Picture Manager, available on all Northern Territory Government computers, as well as other specialised software such as Photoshop.
File size guide for images:
small - 0 to 250kB
medium - 251kB to 1,000kB (1MB)
large - greater than 1MB.
Examples
For an example of how images should be used, see the list of function areas for the George Brown Botanic Gardens.
These images show the user the areas they can hire.
A close-up image of part of the garden would not be suitable.
Rules for accessibility
It is important that all audiences receive the same information.
Alt text is an alternative to an image for users who:
have a very slow connection and are browsing with images disabled
are vision impaired and use text-to-speech software
have cognitive impairment and use text-to-speech software
use a text-only browser
listen to the page being read out by a voice web browser
have images disabled to save on download costs.
Images, diagrams and charts need to be accompanied by full descriptions of what they depict that:
describe the image so the user can picture it
describe the key information.
Don't repeat text already used in the existing content.
Examples of images with alt text:

Alt: Example of braille label sign for a minibus taxi. The sign dimensions are 150mm wide and 40mm in height. The text 'Minibus 123' is displayed to represent the minibus registration number and is printed above a braille label. Both text labels are 15mm in height.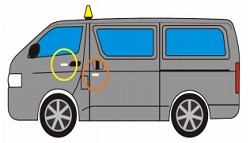 Alt: Image of a minibus taxi depicting the passenger front door and passenger sliding door. The passenger front door shows a yellow circle 2.5cm to the left of the door handle, this is the required area for a braille label. The passenger rear sliding door shows an orange circle 2.5cm underneath the door handle, this is also a required area for a braille label on a minibus taxi.
Last updated: 28 November 2017